Valrene Tweedie O.A.M. (1925-2008)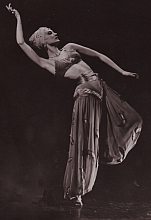 The Cecchetti Organisation in Australia must count itself very fortunate to have had such an experienced member of the dance profession as one of its staunchest supporters and examiners as Valrene Tweedie.
After early training during the mid 1930s at the Byrlakov – Lightfoot Circular Quay studios in Sydney she went onto study with Leon Kellaway, a former member of the Anna Pavlova Company before commencing to teach in Sydney.
A gallery member at every performance of the visiting Colonel de Basil Ballet Russe in 1938-9 she was invited to take a Company class without realising that it was an audition; so shortly before her 15th birthday she found herself being accepted into the Company even dancing in the 1940 world premiere of David Lichine's "Graduation Ball." At the age of 15 she sailed for the U.S.A. with the Company, first dancing in Los Angeles before heading on to the eastern states.
A tour of South America followed during which she married her first husband the Cuban dancer Luis Trapaga leaving the de BASIL Company she and Luis became foundation members of the Cuban "Ballet Alicia Alonso". When the latter dancers returned to Ballet Theatre in New York, Valrene became principal teacher in the newly formed school attached to the Company even guiding Alonso's daughter Laurita in her first dance classes.
During the mid 1940's she danced with the Serge Denham Ballet Russe in which Company she reached the rank of soloist. With this Company she danced in many of Balanchine's ballets – when he was to become her idol. Following the break down of her marriage she returned home to Australia in 1952.
Her links with Victoria go back to 1953 when Gertrude Johnson offered her the Directorship of the Australian National Theatre Ballet Company. At this time she revived Fokine's ballet "Carnaval" with herself dancing the role of Columbine and also made her choreographic debut with a ballet danced to the Prokofiev "Classical Symphony" entitled "Caprice."
When the professional company folded soon after the 1954 Royal Command Performance she taught in the National Theatre Ballet School where she resumed her Cecchetti associations by being prepared for the Elementary examinations (i.e. Associate teaching qualification current in those days) by Madam Lucie Saronova who had been her examiner way back in 1938 when she was prepared by Moya Beaver at the Lightfoot – Burlakov School in Sydney, for the original Grade 3 Syllabus examination, when she passed with Honours which was a rare event in those days.
Apart from teaching in the School she joined Jean Alexander in instigating the Ballet Workshop concept; the aim being to encourage young choreographers and to give them the opportunity to have their early works staged.
She also reproduced the 3 act "Coppelia" for the National; previously only the first 2 acts had been staged by the Australian Companies. Another reproduction was of the Fokine ballet "Le Coq d'Or."
A short period acting as choreographer and ballet mistress for a Tivoli revue was followed by an introduction to the lyric stage when she appeared in the Cole Porter musical "Can Can" for which her friend from Ballet Russe days Eleanore Treibor came to this country to appear in "The Garden Of Eden" Ballet.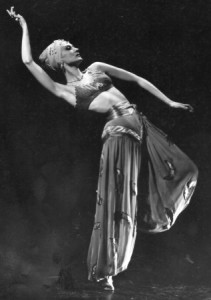 Valrene even spoke of her first on-stage words with the line "you can take off or leave on your pants, if you please," which was rather daring for the 1950s even though the role was that of an artist's model.
With "Can Can" over she and Eleanore went onto stage ballets for the Elizabethan Opera Ballet Company for whom she choreographed "Wakooka" a work with an Australian theme to music by John Antill.
1956 saw her back in her home city of Sydney when she was asked to care take the studio of two former Ballet Russe colleagues: Phyllida Cooper (herself a Saronova pupil) and James Upshaw. When she eventually bought the Little Regent Street studio it became known as the Australian Academy Of Ballet. Choreographing for a weekly ABC TV variety show became part of a busy schedule.
With the beginning of the 1960's she founded Ballet Australia, which once again showcased the work of tyro choreographers who may never have otherwise found it possible to have their early attempts staged. The aim was to involve Australian dancers, choreographers, composers and artists.
From this beginning a biennial Choreographic competition was launched with Nanette Hassal being one of the earliest winners, thus giving her the opportunity to continue her studies in New York. Ever an educator Valrene also introduced the first and only full-time Cecchetti dance course to this country.
When Laura Wilson came from England to examine in 1962 she joined Peggy van Praagh in setting up the initial Cecchetti National Council and a new panel of examiners of which latter Valrene became the new N.S.W. Representative. From then on she adroitly balanced her many N.S.W activities with ever increasing commitments for the Cecchetti Society Branch of the I.S.T.D.
Many of her students were to dance in European Companies for example Katie Pianoff with the Royal Ballet, London whilst others were to become influential on the Australian Dance Scene; no better example being than our honoured patron Colin Peasley O.A.M. who was to become a foundation member of the Australian Ballet. Many, many others spring to mind but we should perhaps remember the choreographic success of Leigh Warren.
During the mid 1970s together we made 2 trips to London for further studies with Nora Roche at the Royal Ballet School. Because of her many years dancing with the Ballets Russes dear Nora made sure that Valrene's fully professional approach to ballet teaching should be acknowledged by the I.S.T.D. and so she was awarded the Maestro Cecchetti Diploma.
Even though giving up full-time teaching in 1985 she still kept up a tight schedule of guest teaching; no Victorian Summer School or Queensland Winter School would have been complete without her wonderfully inspiring classes which she was so well able to gear to the varying capabilities of the students before her. She scaled down on examining engagements but was always ready to accept short category 4 postings.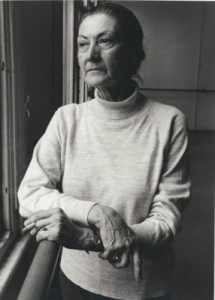 1991 saw her receive a most deserved recognition of her services to dance in this country, namely the fact that she was awarded the Medal of The Order of Australia.
1992 saw a special event occur in that Graeme Murphy cast her as Clara the elder in his re-working of 'Nutcracker" for the Australian Ballet. At first tentative of the challenge after so many years since she had last performed on stage, her interpretation of the role was acclaimed by all the critics. For me personally it was an emotional time as we had last danced together on stage in her version of :Francesca da Rimini" some 40 years earlier with the National Theatre.
Her final stage appearances were made nine years later in Stephan Baynes ballet "Requiem." In retirement her significant concerns were the state of ballet in this country and the pleasure she derived from the children of her 2 nieces Ann and Fiona. Even though disagreeing with our new title CECCHETTI BALLET she still gave much time to promoting "The Method" which she so wanted to be seen as the epitome of Classical Ballet.
To her Cecchetti meant beauty, simplicity and good, true, balletic basics. She truly was an Australian "National Treasure". We can do no better to respect her memory than to remember the basic tenets of the Classical dance, to teach them with correctness but also to be fully aware that we are involved in promoting a theatrical art form.
Written by Athol Willoughby O.A.M., Fellow I.S.T.D.