Shiela Darby (1926-2000)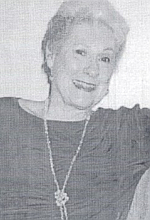 One of the foremost exponents of the Cecchetti Method in the United States, Shiela Darby was a close and long time associate of Olga Fricker, the founder of the Cecchetti Society Inc. USA.
Shiela was tireless in her efforts to raise the standard of classical ballet teaching in her homeland. Together with Ms. Fricker, Shiela ran the Fricker-Darby School of Dance in Los Angeles, where they developed a performing group called "The Apprentices," out of which many fine teachers and dancers emerged.
One of their most successful students, Jennet Zerbe, was chosen to dance the role of Odette at a Royal Ballet school matinee before going on to become a soloist with American Ballet Theatre.
Shiela's early ballet training was with Maestro del Oro, in San Francisco. Her advanced study continued under Olga Fricker, and later, in England, with Nesta Brooking, Laura Wilson, Nora Roche and Richard Glasstone.
Her initial performing career was with the Mason-Kahn Dancers in San Francisco. This led to Theatre Wing Productions, USA shows, summer stock, and the first national tour of Camelot.
She choreographed numerous shows for the Yuba College Theatre productions, as well as special shows for television and for various charitable organizations. Together with Ms. Fricker, she ran the California Festival Ballet Company.
In recent years, Shiela was much sought after as a professional coach by young teachers in California and, until a vfew years ago, she served as Administrator to the Cecchetti Society Inc., USA.
A Major International Examiner for the Cecchetti Society Faculty of the ISTD, and one of only a handful of American teachers to hold the Enrico Cecchetti Final Diploma, Shiela was awarded the Cecchetti Medal—the Society's highest honour—in 1995, in recognition of her magnificent contribution to the Society's work.
Mrs. Shiela Darby died peacefully on May 22, 2000, at her home in Sacramento, California, after a long battle against cancer.
As my personal friend of long standing, and an intelligent and elegant lady of great integrity, Shiela will be greatly missed and remembered by all who knew her.
Written by Richard Glasstone