Nora Roche (1906-1982)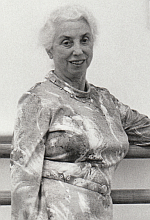 Born in London, England in 1906, Nora Roche first studied dancing with Dore Desnaux. As a student, she studied the Cecchetti method with Margaret Craske.
From 1925 to 1939 she danced with the Carl Rosa Opera Company, becoming a soloist in 1932. From 1942 to 1952 she ran her own ballet school in London and also taught at the Rambert School for a number of years.
In 1959, Ninette de Valois invited Miss Roche to join the staff of The Royal Ballet School at White Lodge. It was there, and at the Upper School, for nearly a quarter of a century, that Nora Roche did so much to safeguard the purity of classical style in the schooling of young dancers.
As well as playing a major role in the training of so many dancers, including some of our finest young ballerinas, Nora was also responsible for coaching many of those who later became teachers, generously passing on to them her profound knowledge of the art of teaching.
One of the foremost figures in the Cecchetti Society, a member of the Cecchetti Committee and a major examiner of the Cecchetti branch of the ISTD, Nora Roche's integrity and artistic standards were universally recognized and respected.
She made many friends on her examining tours abroad, especially in South Africa, where she was much loved. Her deep understanding of Cecchetti's work enabled her to pass it on to new generations of dancers, not as a museum piece, but as a living and vital link in the continuity of a great tradition.
Her love of dance was equaled only by her love of children – all children. Her married colleagues with young families always valued her advice, when she cautioned them against becoming over-involved in their work at the expense of their own children.
As a teacher, her understanding of the needs of young pupils was exemplary: "Remember, it takes seven years to perfect a movement" and "Never leave a class on an angry note" were two typical phrases used by Nora.
With Nora Roche's death on June 7th, 1982, the English dance world lost one of its best loved figures. On January 16th, 1983, dancers from The Royal Ballet and The Royal Ballet School took part in a special Tribute to Nora Roche, at Sadler's Wells, to raise funds to establish London's Cecchetti Centre in her memory.
Written by Richard Glasstone