Margaret Saul (1902-1987)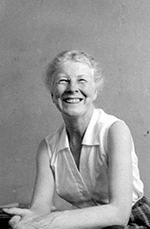 Margaret Saul was born in Dover, England, where her father had a dentist's practice. She had one brother and one sister. Unusual in that era, she left home to pursue a career and studied classical ballet under Margaret Craske in her West Street studio in London. She was an exceptional dancer and although she had beautiful insteps, a very long big toe made pointe work impossible. Margaret took Advanced Cecchetti (now Maestro Cecchetti Diploma) and
became an examiner for the Cecchetti Branch (now Faculty) of the Imperial Society of Teachers of Dancing. She taught classical ballet for a period at the Wordsworth School for those training to teach dancing. During that time a group of the students decided to pursue the fairly new ISTD qualifications. They worked together as a group sharing their individual expertise, with Margaret Saul preparing them for the Cecchetti Society Classical Ballet Branch, Betty Oliphant preparing them for the Tap & Modern Stage Branch, and Marian Lombard preparing them for the Classical Greek Branch. Some also took their Ballroom exams.
In 1939 the 2nd World War broke out, and Miss Saul kept her school running throughout that time in spite of the London Blitz. Many of her older students were involved in the Services or war work.
Miss Saul ran her studio with her pianist Miss Freda (Pip) Middleton in Kensington
High Street and later in Earls Court. It was not a large space, on the second floor over a tailor's Shop – regularly on Thursdays during 'deux jetés en attitude, etc.' the owner would come running up, very distraught because we were fusing his newly fitted strip lighting – the door opened directly into the studio with a corner for students to change, the piano, a couch where visitors were seated during classes and a book case. This contained a variety of books that Miss Saul encouraged her students to read. A commanding presence came from a large print of the R. Swartz lithograph of Maestro Cecchetti sitting in his chair with his stick, hanging on wall 5.
The morning classes were based around the Intermediate and Advanced work (now
Advanced 2 and Diploma) and strictly abided by the "Days of the Week". Monday's assemblé steps were the best way to get you back on your legs after the weekend!  During class very little was said. Miss Saul would have private conversations during the barre, but heaven protect you if you missed a beat of the exercise. Students all had nicknames (not always kind) and Miss Saul could be very sarcastic at times. If a student was the slightest bit late for class they had to sit out, even one student who had an hour on a train which was often late. However, Miss Saul's ability to develop musical sensitivity, travel and dynamics in her students was always noticeable in public classes. She never counted, she just made us 'feel' the music. She had beautiful hands and always demonstrated beats with very fast fingers. She considered Cecchetti's work so well constructed that "less analysis the better, just do it!" was the best way.
The age span of students at her studio in 1946 was divided between mature teachers coming back to dance after war work and 14-16 year olds starting out. This was beneficial to the younger ones but maybe trying for the older ones. Students knew no syllabi and were not aware what was Cecchetti's set work or Miss Saul's free work, but Miss Saul would successfully enter a student for an exam when she considered them ready. She would give one private lesson to explain what the exam required. At the end of all morning classes students would stretch each other (carefully taught how and observed by Miss Saul) against the wall in the three basic body positions. Between the barres were dark shadows, ghosts, where hot students leaned to be stretched, one ghost was wider than the other because the barres were further apart. One day, in 1946, there was a gentle knock on the studio door, Miss Saul went to answer, in walked a tiny little lady, class stopped and we all waited while the two ladies embraced, the longest embrace I had ever seen. It was Miss Craske, unexpectedly returned after seven years in India. Miss Saul led her to the couch and class continued.
For fulltime students the afternoons went as follows:
Monday – Character, great classes as Miss Saul had trained under Algeranoff (1903-1967), onetime partner to Anna Pavlova. Monday evenings Miss Saul taught a business girls class at the YWCA in Tottenham Court Road, in which students were expected to assist.
Tuesday – Tap (for auditions) and Limbering, taught by Joan Hewson while Miss Saul and Miss Middleton, with a student, travelled by bus across London (about one hour) to teach children's classes in Epping, later continued by Barbara Geoghegan.
Wednesday – mime taught by Miss Saul, with an Elementary (now Advanced 1) class in the evening. This was the only class at this level during the week.
Thursday – Dance Composition with Miss Middleton (not considered grand enough to be called choreography). Miss Saul would come in towards the end of class to see what had been achieved.
Friday – Musical Appreciation with Miss Middleton, which sometimes included visits to Art Galleries or Museums while Miss Saul, with a student, would take a train to teach at Godstowe, a girls' school in High Wycombe, these classes all ended with a mime scene organized by the student. Miss Anita Heyworth, ISTD Natural Movement, also taught at this school and all the children had a lovely sense of dance and beautiful footwork from all the barefoot work.
Saturday was basically a day off for full time students when Miss Saul taught children's classes at her studio. Some fulltime students took piano lessons from Miss Middleton during the week, but it was difficult to find enough time in the week for any practice.
Students were encouraged to audition for shows around London (this was where Tap was needed) and many danced in the traditional Christmas pantomimes around the country that ran for about three months. This was very strengthening to for pointe work and a sense of theatre, and the inevitable faults developed were soon put right once back under Miss Saul's eye.
Miss Saul ran her studio in Earls Court, London from 1949-1958 when she moved to North America. She alternated teaching at the National Ballet School in Toronto and its Summer Schools with Butler University in Indiana, USA for over 20 years. In Indiana she worked with Evelyn Schacter as her pianist and also gave classes for teachers from around the state. Betty Hayes from Kokomo attended these classes and would often take one of her favourite students out of high school especially for these classes; that student was Joyce Shietze.  During her time at the National Ballet School, Miss Saul taught most of Canada's past and present examiners.
On one visit back to Britain, Miss Saul stayed with us in London. Surprisingly, she appeared to enjoy our young children and taught our two year old son to tie knots, after which everything around the house was tied in knots. She told us she thought if she had had children she would have been a good mother, a side of her that not many people saw.
Directly or indirectly Margaret Saul has touched so many dancers and teachers in Britain and North America. Her love of people and dance, her pursuit of excellence in teaching, her encouragement and generosity of spirit shared with her students will live on in an annual scholarship given in her name to help experienced teachers or dancers explore further knowledge and interests. There are also two seats in the Betty Oliphant Theatre, Toronto in her memory.
Memories:
Deborah Bowes – Margaret Saul was a much beloved teacher whose forthright, demanding approach was elegantly balanced by a charming sense of humour.  When one of Miss Saul's comments, such as "Frappés, not flappés" or "That will need quite a lot of private practice" pops out of my mouth, it makes me smile. Miss Saul cherished musical, well-nuanced port de bras: one of the many gifts she bequeathed to her students.  At Canada's National Ballet School she worked with a brilliant and empathetic musician, Babs McKay.  Once, toward the end of a lengthy and demanding adage Miss Saul instructed Mrs. McKay to keep playing, as we needed to repeat this exercise.  Then, in passing, she corrected my droopy elbow and whispered, "The music is so beautiful that I must hear it again".  A delightful dinner guest, Miss Saul was content simply to have her favorite aperitif, apple juice, on hand.  Her belief in reincarnation was often the focus of our conversations, providing a window into her wise and well-considered perspective on life.  Wonderful images have stayed with me too from Miss Saul's more amusing reminiscences.  I particularly like to picture Miss Saul learning to tap, in her pleated skirt and cardigan, as she and Betty Oliphant traded ballet for tap dancing lessons as young women in England.  Most of all, though, when I think of Miss Saul she calmly and encouragingly reminds me I could do a little better.
Joyce Shietze – many of us remember Miss Saul working out enchaînements with her fingers and if she saw us watching, she would turn her back so we couldn't see!  I loved the way she made each of us feel special by giving private corrections in a soft voice during the barre.  That meant that we each got something only for ourselves.  Her classes were difficult, but had such beautiful flow that they were wonderful to do.  She was an enigmatic person; sadly none of us ever really knew her very well.
Rose Marie Floyd remembers Miss Saul's inspirational teaching at her studio. She once asked her if she might have a chance of passing Advanced (now Diploma). Miss Saul replied "you'll never know if you don't try!"
Brenda Hamlyn speaks of Miss Saul's ability to inspire and create magic.
Valerie Grant – " the memory of Miss Saul that stands out in my mind is from when I was about 11 or 12 years old.  I had her as my examiner for what I think was Grade 3. I was quite wrapped up in doing the Pas de Chat exercise and I finished inches from her table. I was a little surprised and probably blushed. Miss Saul leaned forward, hand out on the desk and said "very nice dear" in such a kind voice." No technique, maybe I just looked as if I was enjoying it!
Evelyn Finlayson-Kelly – one I remember is the final rise on Trois Relevés was on the count of 7 closing after the music and holding for as long as you could.  Another was in Adv. 2 Brisé, pas de bourrée, etc. The timing she used of holding back the final pas de bourrée by emphasizing the initial brush, a fast pas de bourrée accelerating the brush to repeat the step gave extraordinary dynamics.
Janet Hagisavas says the photograph reminds her of the laughing glint she and Mrs. Schacter always had in their eyes, although in class Miss Saul was all business and did not suffer fools.
Maureen Saunders, working in a very isolated spot in Canada, remembers her as a very sweet examiner that made her feel good about her teaching.
Written by Sheila Kennedy, 2014                                                                      
This Article will appear in Pioneers Volume 2