Margaret Craske (1892-1990)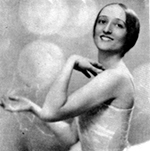 Margaret Craske was known to her dancers as Miss Craske. That is because she said once that "pupils will eat you up" without some formality! To me she was friend, guide and beloved teacher of forty years. My first class with her was at the Metropolitan Opera Ballet School in 1950, but I learned later of some of her past.
She came to dance at sixteen, having been athletic all her life. She studied at other schools but a friend dragged her to Maestro Cecchetti's class in London. He growled and complained about her work and eventually threw his came at her. She, being terrified, crept to the back where the illustrious Tamara Karsavina told her "you should be happy, he likes you!"
So, when the Diaghilev Ballet needed dancers she was one sent to him and renamed Margareta Krasova. Her description of the first rehearsal she had (Les Sylphides) was on a dark stage, coached and expected to join the performance―perfectly. She must have been perfect, for she stayed on with the company.
Also (the time frame is shaky) but she, Marie Rambert and Ninette de Valois toured the provinces of England together. She was asked to "break in" Anna Pavlova's pointe shoes and Pavlova regularly sent old shoes to be used by her pupils. During this time she was asked by the Maestro himself to "clean up and fix" the adagio manuscript of the adagios that Idzikowsky had made. She was also the co-author of the allegro books.
At Diaghilev's death, she opened a school with Mabel Ryan in London. She was also doing all the choreography for the San Carlo Opera Company at this time. During this time some of her pupils were Cyril Beaumont, Fredric Ashton, Anthony Tudor and Margot Fonteyn.
The most important event in her life was a meeting with Meher Baba. He told her immediately "I had not expected to find you so fast". She became his devoted close disciple for the rest of her life. Just as England entered WWII, Baba sent for her to come to India. She barely got out and after a harrowing ship journey she arrived in India with only a ten pound note hidden in her shoe!
She spent the next seven years in Baba's ashram in Meherabad, India. Every day she clung to a pole holding up the roof on a dung-covered porch, doing her barre then centre. Who of us today could do that? She once did a polka in the garden with Meher Baba. She said "You could not imagine his rhythm!"
She even taught some lessons to him. She was also instructed by Baba to ask Cecchetti for a letter of recommendation for her teaching. I have seen this letter, written in French in a very florid script. My recollection of its contents are that she was one of the few who understood the principals of his work.
In 1946, Baba called her and told her to leave India and go to America to teach ballet. She wondered how that could happen as she had only the clothes on her back. One of the Mandeli (resident disciples) drove her to Bombay. Somehow she met a former friend from England who staked her to some new clothes and a ticket on a ship to England!
She arrived in London and got in touch with Ninette, who asked her to teach some classes for the then Sadler's Wells Ballet (now the Royal Ballet). She was very anxious because they had been dancing and keeping up with new things while she had not had contact with Europe for seven years. She met Fredric Ashton on the way in and he said "Hello, Ducks." She had a sudden feeling she had had contact with the world through Baba. She also taught briefly at Margaret Saul's London studio.
The big surprise was that Ballet Theatre (ABT) was in London for a U.S. cultural exchange program. Who was the Artistic Director but Anthony Tudor! Tudor asked her to come to America to be the company's teacher. Baba's wish fulfilled, she immediately said yes. She returned to the U.S. on the chartered airplane but had to go to Canada to get a permanent work Visa.
This done, she began teaching and coaching the company. Her very favorite dancer was Alicia Alonzo. She did private coaching on a dark stage with no music while Alicia would hold on to a costume or scenery crate, and demand what Alicia was doing was perfect. Good was not in Miss Craske's vocabulary!
While at Ballet Theatre she worked with Jerome Robbins, Nora Kaye and Sallie Wilson. In 1950, after three years of touring with the company, Ballet Theatre expanded. Trying to find a permanent home they became the resident school at the Metropolitan Opera with Rudolph Bing as the new Director, Tudor at the helm and Miss Craske as the principle teacher. This is where I came in―lucky me!
She was diminutive and always taught in a shirt, grey pants and ballet shoes. She never sat down but constantly walked about. I struggled to learn all the set Cechetti stuff though I had been professional before. There was a precision, a balance in the class that eluded me, but I was drawn in. I told myself "You want to dance until you are fifty, this is how you do it!" I was hooked. I gave up jobs to study there. I joined ABT for 6 years, running back to take class from her whenever I could. After leaving ABT I joined the Metropolitan Opera Ballet. Yea! Miss Craske's classes all day!
I could not miss any classes. Rhythm, épaulment, precision and love of what you did were daily adrenaline. The sounds of voices and orchestra were incredible! We had visiting artists like Margot Fonteyn in the beginning pointe class (the pianist said "that chick has rhythm!"). We had many dancers poised for greatness―Ron Sequoio, Paul Taylor, and Bruce Marks. Above all we had the discipline of Miss Craske's classes.
During this same time, Miss Craske was also on the faculty of Julliard School of dance. What a fabulous education these dancers had! Studying with Margaret Craske, Anthony Tudor, Martha Graham and José Limon.
In 1963 Miss Craske moved to Manhattan Festival Ballet, learning to teach what I had learned. She gave detailed instructions for many of the Cecchetti adagios and allegros. She also gave us the advice that Cecchetti had given her. These words remain part of my life:
"Give only one idea – rhythm – discipline per exercise."
"People only learn when they are ready."
"You have to know what is in their heads before you can help them."
"If you cannot feel it then you cannot teach it."
During the 1980's she was failing but still teaching with the help of assistants. At age 94 she moved to the Meher Baba Center in Myrtle Beach, Southern California. I still took class from her, in her living room. That was when I probably learned the most from her. Maybe I was ready?
She said that "this method must not be lost." Dance Magazine in her obituary said that "she greatly influenced how ballet technique is to be taught."
She died in 1991 and her ashes were interred at Meherabad Hill in India.