Lucie Saronova (1900-1988)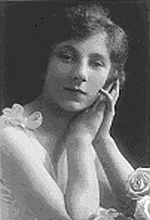 Madam Lucie Saronova was the founding organizer and first chairman of the Australian Cecchetti Society branch of the imperial Society of Teachers of Dancing; her term of office covering a record span of 37 years from 1934-1971.
Born in Mill Bank, London, her associations with Australia go back to 1916 when she set sail for a 3 year tour of Australasia and the Far East with a company which revolved round the talents of English actress and variety star, Ada Reeves.
Madam's future husband, Mr. Harry Jacobs, was the musical director and conductor for the company. Although a student of Maestro Enrico Cecchetti, Madam was already a trained dancer and well seasoned professional of some eight years before joining the London classes of Cecchetti following her return from the Southern Hemisphere tour.
On her ninth birthday, her mother took her daughter for her first dancing lesson. For three years she studied with Paul Valentine, a French dancing master who had settled in London; at the same time she also took classes with the Italian dancer Rita Zalmame thus receiving an introduction to the Cecchetti set work.
A pupil of talent she was soon leading a busy life as a child performer in both pantomime and variety, the only venues where English dancers could perform prior to the First World War. Appearing as "Little Lucie", she was soon being noticed by London critics who even in 1911 noted what were to become her strong points as a dancer – namely a strong virtuoso technique, coupled with much versatility.
Her first overseas performances were given during 1917 in India; leading on to her Australian debut at the Tivoli Theatre, Melbourne. The Company Manager for this tour being Mr. T. J. Holt, father of our future Prime Minister Harold Holt, through whose influence the Australian Ballet was founded in 1962.
Before the end of 1919, "Little Lucie Linda" as she had been known professionally became Lucie Saronova due to the vogue for Russian dancers. No dancer without a Russian name would have been able to gain employment for many years.
It was in this same year that Madam was accepted by Maestro Cecchetti for instruction in his famous method of dance training, now that he had retired from touring and had settled in London to teach.
Soon Saronova had a big decision to make. After giving her one of the few certificates awarded to his English pupils, which proclaimed her right to teach his method, Cecchettiarranged for an audition with the famous director of "Les Ballets Russes," Serge Diaghilev; however at this same time Harry Jacobs proposed marriage. After much soul searching, Madam decided the latter course―a decision which she was never to regret as her marriage gave her one-month short of sixty seven years of happiness.
Accompanying Ada Reeves for her third tour of Australia in 1921, madam and Mr. Jacobs decided to settle in Melbourne where the former opened a dance school teaching for many years, also acting as both choreographer and leading dancer in the ballets which proceeded films at both the Capitol and Regent Theatres; whilst Mr. Jacobs became conductor of the Palais Orchestra, St. Kilda.
Upon her retirement as a performer Madam made one last return to London during 1934 in order to catch up on further developments in dance, before a return to Melbourne where she settled down solely to teach and so pass on the precepts of her beloved Maestro Cecchetti to successive generations of Melbourne dancer students. With the advent of the Second World War, she closed her studio but was brought out of retirement by Miss Jean Alexander, the director of the National Theatre Ballet School in 1949.
It was in this final phase of her career that she taught a number of students who were instrumental in seeing her devotion to the precepts of Cecchetti were carried forward, Miss Lorraine Blackbourn, along with Messrs. William Carse and Athol Willoughby, O.A.M. are three of her former students who are still on the Panel of Examiners, after others retired.
Always devoted to her dear Maestro, Madam taught his work with skill, along with joy in dance. Thanks to her determination alongside pioneering efforts of the original Cecchetti teachers in South Australia (Wanda Edwards) and N.S.W. (Estelle Anderson), the Method has become a well-respected force in dance training in all states of this country.
Written by Athol Willoughby O.A.M. (2002)