LOUISE LIGHTFOOT and the FIRST AUSTRALIAN BALLET – THE CECCHETTI LINK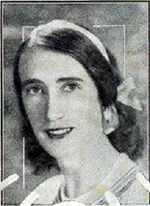 The premiere Australian production of Coppelia was staged by Louise Lightfoot and performed by The First Australian Ballet (FAB), Sydney, 1931, with Mischa Burlakov dancing Franz. "Despite its bold claim to be the first ballet company in Australia, the FAB was definitely not professional and often lacked finesse." The FAB founded by Lightfoot and Burlakov opened a ballet school in 1929 at Kings Street and later in Henrietta Lane at Circular Quay. Despite FAB not being a professional company, Lightfoot and Burlakov managed to inspire, develop and promote an artistic awareness in Australia.
Louise Lightfoot from all accounts was an intellectual woman having been the first female recipient of a degree in architecture from The University of Melbourne, in the state of her birth, Victoria. She had worked closely with architect/designer, Walter Burley Griffin, on his Sydney projects. Lightfoot was attracted to the art of dance by the inspiration of Anna Pavlova during her 1926 tour of Australia. This passion for ballet led her to study with Ivan Sergieff and Alexis Dolinoff, both dancers with Pavlova's Company. Dolinoff, who had been a pupil of Enrico Cecchetti in his London studio, remained in Sydney after the tour, and set up a studio teaching the Cecchetti method. Lightfoot trained briefly in dance with Daphne Deane at the Sydney Conservatorium of Music and Sonia Revid, a pupil of Mary Wigman, who opened a school in Melbourne in the early 1930s.
According to Michelle Potter, dance writer and historian, Lightfoot met Mischa Burlakov "through the Griffins and their friends". Walter Burley Griffin and his wife Marion Mahony's interest in the theatre is more than evident in the stunning ceiling light features that they designed for the Capitol Theatre, Melbourne. Considered one of Griffin's most important commissions, the Capitol House (1924) contained the richly ornamented theatre at ground-floor level below a ten-storey office block.   In the words of one of Lightfoot's leading students, Moya Beaver -:"bohemian people, artists of note, all went to Lightfoot." Listening to Beaver's accounts, along with photo collections and ephemera held at the National Library of Australia, the studio of the FAB certainly was frequented by an incredible artistic milieu of the time. To name but a few were -: musician John Antill, who at the time played the piano for Burlakov and became a prominent Australian composer; Peter Finch, a pupil who performed the wicked brother in a production of Scheherazade and became an Oscar award- winning actor; and Warwick Fairfax Senior (great grandfather of young Warwick) later a prominent Australian businessman and newspaper magnate.
According to Moya Beaver, Louise Lightfoot taught the girls purely by the Cecchetti method and stated that Lightfoot was a "brilliant teacher" but "we were in awe of her" .  Mischa Burlakov, of Ukrainian background, conducted the boys' classes based totally on classical dancing and character. Beaver also recalled that a number of the touring dancers with de Basil's company would use their studios – for example, Leon Woizikovsky, Roland Guerard and Thadee Slavinsky. She felt that many came because Mischa could speak Russian. Woizikovsky who was the ballet master at the time for the touring troupe, had himself been a pupil of Enrico Cecchetti in Warsaw. The discussions, together with the style and format of the classes given by these overseas guests were keenly observed by Lightfoot and Burlakov thus along with performances being of great influence to these emerging Australian artists.
The Lightfoot/Burlakov School entered students for Cecchetti examinations during the 1930s.
An interesting program note from a production of The Nutcracker and Scheherazade by the First Australian Ballet 22nd October 1934 at the Sydney Conservatorium reads:
Lightfoot-Burlakov school "is the only existing school in Australia intimately associated with an organised Ballet, and offering its students opportunities to appear in actual Ballet productions. The system of technique used by Enricho [sic] Cecchetti, teacher of Pavlova, Nikinski [sic] and the famous members of the Imperial Russian School. Recently M.de Basil, director of the world-famous 'Ballet Russe.' decided to locate his school of ballet in England. The system to be used, he announced, is the Cecchetti method; and therefore members of the Lightfoot-Burlakov School know they are being trained on exactly the same lines as the Continent's most ambitious dancers. On account of the number of schools now adopting the Cecchetti method, the British Imperial Society have recently incorporated it into their examination syllabus.
In reference to the British Imperial Society – in 1922 the Cecchetti Society was established in London and in 1924 the Cecchetti Society became a branch of the Imperial Society of Teachers of Dancing. The first Cecchetti examinations to take place in Australia were in 1934 with Molly Lake as examiner. She was an English dancer who had studied with Cecchetti and was performing in Australia with the Dandré-Levitoff Russian Ballet. Mary Lightfoot, who is currently writing Louise Lightfoot's biography confirmed that Lightfoot studied the Cecchetti method with Margaret Craske at her London studio during an overseas trip in 1937 and also studied in Paris with Preobrajenska and Egorova.
Valrene Tweedie (1925-2008) was one student who was prepared by Lightfoot's student Moya Beaver for her Grade Three examination in 1938. She received Honours from examiner Madam Lucie Saronova. Tweedie was accepted into Colonel De Basil Original Ballet Russe touring Australia in 1939 and departing in September of 1940 to the USA. Gordon Hamilton (Brown) who was a leading dancer in the FAB was Tweedie's older cousin. Moya Beaver was left to look after the Lightfoot/Burlakov studio in March 1937 when Lightfoot and Burlakov left on an overseas trip to search for music for performances and to enlarge their knowledge of dance. It was during this trip that Lightfoot stopped off in Bombay which was to change her career, being and direction to Indian dance forms . It is interesting to note that the Griffins moved to India in 1935. Walter Burley Griffin died in India of peritonitis and was buried there in 1937.
Returning from India, Louise Lightfoot choreographed The Blue God  (Le Dieu bleu) for FAB. An excerpt from The Canberra Times, Wednesday 21 September, 1938 reads-:
The Corps de Ballet consists of thirty dancers, trained by Louise Lightfoot and Mischa Burlakov, who, after extensive experience in leading Russian Ballet in Europe, have conducted a special school in Sydney for the training of classical dancers.
The programme will include "La Dieu Bleu" a striking ballet based on ancient Indian story, and presented with a wealth of beauty and colour, Miss Lightfoot visited India especially to obtain local features and costumes for this ballet, which will be performed to authentic Hindu music.
Two other favourites from the repertoire of the classic Russian ballet will be produced in "Les Sylphides" based on the music of Chopin, and in "Spectre de la Rose."
Lightfoot left The FAB in late 1938. Returning to India she continued to study Kathakli, Manipuri and Bharatanatyam dances becoming her lifelong passion. Lightfoots' new chapter was devoted to presenting and teaching the beauty of Indian culture through dance, particularly in the United States of America and Australia.
Burlakov retained the helm of FAB until it disbanded in the 1950s.
Written / compiled by Anne-Patricia Butler
Endnotes
Mary Lightfoot informed in an email to author 8/07/2011 that Louise Lightfoot always spelt Misha's name without the 'c'.
Tracey Judd Iva:  Art Deco1910-1939 Catalogue, Melbourne, National Gallery of Victoria, 2008, pge 257.
The Capitol Theatre is presently owned by RMIT University. Mary Lightfoot informed in an email to author 8/07/2011 that Louise Lightfoot in fact also worked on the Capitol design while training and doing articles with Walter Burley Griffin.
Lightfoot student Valrene Tweedie used a commissioned score by Antill in her production of Wakooka for the Elizabethan Opera Ballet Company, 1957
Gordon Hamilton  – Born 1918 and died 14th February 1959, in Paris, aged 40. He was an older cousin of Valrene Tweedie.  He was a dancer in the Sadler's Wells Ballet during the war years. Danced with Roalnd Petit's company and then went to America where he worked in musicales and also taught in New York and later in Vienna.