Dance Collection Pr (December 1, 1995)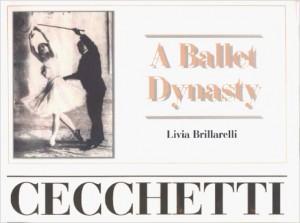 The story of the Cecchetti family of dancers whose lineage descends from the Italian town of Civitanova Marche in the early 1700's, is a remarkable tale of talent, celebrity and enterprise. Writer Giannandrea Poesio comments: A significant aspect of Enrico Cecchetti's life and career is that he operated within three very different epochs of theatrical dancing – the Italian "ballo", the Russion Imperial Ballet and Diaghilev's Ballets Russes – passing from one to the other with remarkable eclecticism.
Livia Brillarelli, a resident of Civitanova Marche, authored this book following her research into the Cecchetti family personal archives. Through a feast of photographs and fascinating narrative, a new perspective is drawn on four generations of Cecchetti dancers, beginning with Enrico's dancing parents to his grandson, the last member of this remarkable family dynasty. Cecchetti – A Ballet Dynasty makes a significant contribution to an international resurgence of interest in Enrico Cecchetti as a teacher and artist and encourages the reader to revisit the legend of the Maestro. Award Winning Design and Layout and Printing.