Helen Webb (1882-1968)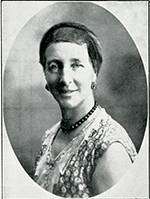 Robert Crompton's* former pupil Helen Webb arrived in South Africa in 1912 and introduced "fancy dancing" to Cape Town from 1913. As she was 30 at the time, one would assume she would have undertaken continued training as well as teaching in London before her departure, although there was no documented evidence to support that except for the registration of a Helen Webb in November 1912 as a member of the ISDT and living in Paddington, London.
Webb jumped at the opportunity to join the staff of the South African College of Music when Professor William Bell invited her to teach dance classes on their premises. The year of 1916 saw the inauguration of annual performances by Webb's pupils at the City Hall in what was then referred to as 'displays' to the accompaniment of the Cape Town Municipal Orchestra under the baton of Theo Wendt.
Webb choreographed a dozen original works mostly based on local themes. In 1923, when the College of Music was incorporated in the University of Cape Town, Webb once again opened her own studio and that same year took her pupils and some musicians on the first South African tour of a local 'company,' known as the Helen Webb Ballet Company.
Described as a charming lady, with a down-to-earth brisk manner accompanied by a great sense of humour, Webb is recognized as a pioneer of ballet in South Africa and considered by some as the doyenne of dance teachers in South Africa.
Webb may also be regarded as the foster mother of ballet in Cape Town as it was really through her pupils Helen B. White, Maude Lloyd, Dulcie Howes, Cecily Robinson and her encouragement for them to go abroad and study with Maestro Cecchetti and Margaret Craske that laid the foundations of the Cecchetti following in Cape Town.
Webb herself visited London in the 1920's and observed the classes of Cecchetti, thereby strengthening her own teaching and staying in touch with the Cecchetti method that her past pupils were teaching in her studio.
* Robert Morris Crompton, a founding member and first President of the Imperial Society of Dance Teachers, introduced "fancy dancing" to London through having "developed a method of teaching founded upon the basis of theatrical ballet danc­ing, which was more useful for amateurs of theatrical dancing and professional pupils of musi­cal comedy, physical culture, etc. than the long and strenuous training necessary for finished operatic work. His methods were found most useful amongst the general teachers, forming a solid foundation from which a pupil could specialise into any branch of dancing." (The Dancing Times, Jan. 1927)