Faith de Villiers Renwick ( d. 2001)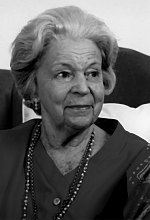 Faith De Villiers (Renwick) was an exceptional person who touched all in the dance and theatrical community with her effervescent energy, profound insight and unwavering courage. Persistent in pursuit of excellence, Ms de Villiers inspired and stimulated those with whom she worked. Her passionate enthusiasm was undiminished to the end.
Ms de Villiers was one of the greatest pioneers of South African Ballet, and she is accredited for her work with African Consolidated Theatres. She was co-founder of Ballet Theatre in Johannesburg as well as the Johannesburg Art Ballet and Music school.
Closely involved in the establishment of Johannesbrug City Ballet, Ms de Villiers was later to become Artistic Director of Pact Ballet, a position she held until 1969. In 1970 she represented South Africa at the Gulbenkian Conference.
As Chair of the Cecchetti Society of Southern Africa for 25 years, and as a senior major examiner on both the national and international circuit, Ms. De Villiers toiled for the Society.
She was awarded the Imperial medal by the Imperial Society of Teachers of Dancing, London, in recognition of her service. She received the Southern African Cecchetti dedication award in 1996, and continued to promote ballet during her close involvement with the Val Whyte Bursary.
She leaves a huge void in our fraternity, and we pay homage to the memory of this remarkable person whose spirit will remain in our hearts always.
"The beauty of a life well lived lasts forever" and we pledge sincere commitment to the perpetuation of her vision for dance, particularly in Sothern Africa.
Written by Gail Myburgh
---
I feel extremely privileged to pay tribute to a woman truly loved and admired, and am sure I speak for all of us here today in paying our last respects to Faith.
There are rare occasions in life when one is truly blessed to be touched by such a generous and loving spirit as hers. I first met Faith 53 years ago when I was six years old, and from that day a star shone down enveloping me with her inimitable light and zest for life. She was the person who brought overwhelming enthusiasm, filled with creative passion, into the world of dance.
Her magical spell never waned, resulting in numerous accolades being bestowed upon her. Faith was a very stoic person whose courageous attitude lightly brushed aside the many health problems she had to endure, particularly in the latter years of her life.
When I visited Faith at the Cutty Sark Hotel in Scottburgh, it re-confirmed all she had meant to me. She was a mentor, surrogate mother, dearest friend, quixotic bridge partner, gardening guru, and last but by no means least, one of the greatest exponents of classical ballet.
As a teacher, Faith never analysed, her vision and musical instinct were paramount, carrying all in its wake on a journey of discovery.
Faith, on your last journey we all pray your path is strewn with the same amlunt of wondrous beauty and joy you gave us all when we travelled in your trail. Your memory will live with us forever.
Written by Lynne Fouchė
---
We pay tribute to a truly great lady. Throughout your life in dance, so many people have come and gone, in a swirl of hopes, dreams, triumphs and failures, but you have stood steadfast, always.
Like a beacon, you have been there for us all—dancers, teachers and lovers of the dance. You have only ever given most generously of your talents, experience, wisdom and love, and we have all reaped the rewards of your God-given gifts.
You have inspired generations of dancers, and enriched the artists and arts of Southern Africa in too many ways to number. Your boundless enthusiasm has so often given us the courage to go on when despair threatened. Truly, you deserve your name, for you have always kept the faith and touched our lives and our hearts. We thank you, and we love you.
Written by Jenny Barlow (Louw)