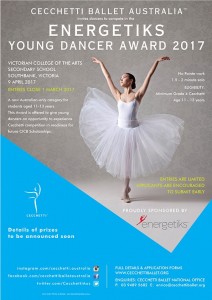 The mission of the 2017 Energetiks Young Dancer Awards is to find the finest young dancers aged 11 – 13 years.
Although these Awards will be held in conjunction with our Australian International Cecchetti Scholarships, students competing in the Young Dancer Awards will not be competing for a scholarship to Florence but for experience ahead of the 2020 competition which we will be hosting in Sydney August 2020.
Entry requirements:
Minimum of Cecchetti Grade 4 with result of Highly Commended /Honours for their most recent examination.
Minimum age: 11 and Maximum age: 13 on the day of the competition.
Must be entered by a registered Cecchetti Teacher.
Each candidate will perform a classical ballet solo of their choice of 1.5 – 2 minutes duration (Not Repertoire).
Solo must not contain Pointe work.
Performance must be in a short tutu, suitable to the above age restrictions, and ballet flats (canvas or leather).
Music to be submitted on CD-R on the day.
Prizes to be announced soon.
Energetiks Young Dancer Award 2017
Application form
proudly sponsored by www.energetiks.com.au
http://www.cecchettiballet.org/page.php?page=yda