The Influence of Anna Pavlova Globally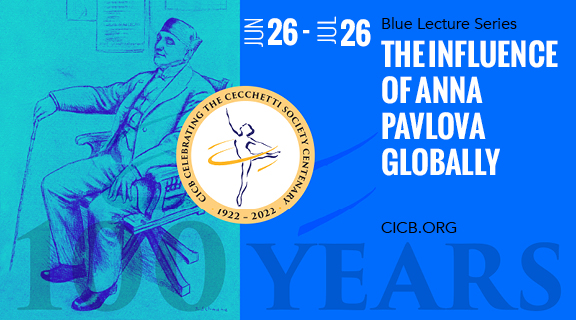 THE INFLUENCE OF ANNA PAVLOVA GLOBALLY
YouTube Link ~ The Influence of Anna Pavlova Globally
PRESENTERS: JANE PRITCHARD.M.B.E. & CAROLINE HAMILTON
The Birth of Anna Pavlova's Company
 – Jane Pritchard M.B.E.
The presentation will look at how Anna Pavlova's Company was established in the years 1910-1914 taking in its personnel and the development of its repertoire. It will reveal the shift from a Russian to a more international company and the building up of the repertory from programmes of divertissement to the inclusion of short ballets. Focus will be given to key ballet masters Alexander Shiryaev, Enrico Cecchetti, and Ivan Clustine and the crisis caused by Pavlova's split with her stage partner Mikhail Mordkin in 1911.
Jane Pritchard is curator of dance for the Victoria and Albert Museum, London (V&A). She curated Diaghilev and the Golden Age of the Ballets Russes, 1909–1929 for the V&A which was adapted for Canada, Spain, and the USA and she edited the accompanying book. Her other exhibitions include Les Ballets 1933 (which toured Britain and the USA), Rambert Dance Company at 75; A Flash of Light: The Dance Photography of Chris Nash; Hand in Glove, a performed exhibition; Anthony Crickmay: Photographing People and Performance and currently On Point. Royal Academy of Dance at 100. Previously she was archivist for Rambert Dance Company and English National.  She has made radio programmes, curated seasons of dance films, and contributed to numerous publications. She was a recipient of a Churchill Travel Fellowship and the Anthony Denning Research Award. She was awarded an MBE in the 2014 New Year Honours.
Bringing Ballet to the Antipodes – Anna Pavlova's Australian tours, 1926-1929
– Caroline Hamilton
Caroline Hamilton is a dance and costume historian specialising in early twentieth-century ballet and the evolution of dance costume. Hamilton has written extensively on ballet and costume including as a contributing writer for Anna Pavlova: Twentieth Century Ballerina (2012), Ballet: The Definitive Illustrated Story (2018), and Dance We Must: The Art and Costumes of Ruth St. Denis and Ted Shawn, 1906-1940,  (forthcoming, 2022). Hamilton has recently completed a PhD between the University of Brighton and the Royal Pavilion & Museums Trust. Her doctoral thesis examined the design and impact of Balanchine's short-lived ballet company Les Ballets 1933 through the surviving costume and material culture.