Formation of the British Ballet Societies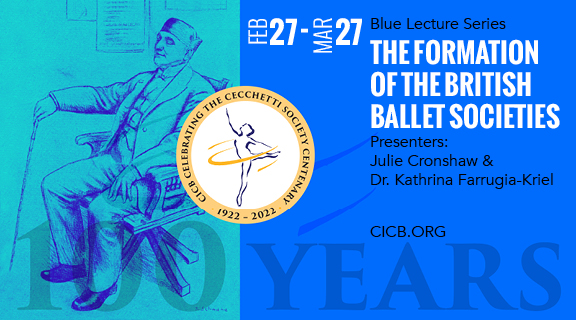 Formation of the British Ballet Societies
Presenters: Dr. Kathrina Farrugia-Kriel & Julie Cronshaw 
On the heritage of the "Grammar of dancing"
Tracing the legacy of the Italian School through the Royal Academy of Dance's founder members Phyllis Bedells and Tamara Karsavina
Dr. Kathrina Farrugia-Kriel – LRAD, BA (Hons), MA (Distinction), PhD
Dr. Kathrina Farrugia-Kriel is Head of Research in the Faculty of Education of the Royal Academy of Dancing. Her research interests are in 20th and 21st Century ballet (performance and pedagogical) histories. Her work is widely published, and her books include Princess Poutiatine and the Art of Ballet in Malta (2020), and an extensive anthology The Oxford Handbook of Contemporary Ballet, co-edited with Dr. Jill Nunes Jensen and recently published by Oxford University Press in 2021. She is editor of Focus on Education and also curates the Guest Lecture Series events. More recently Dr. Farrugia-Kriel has conceptualised, researched, and written the webinar series: Pioneers of the RAD (2020), and Ballet in the 20th Century (2021).
Since joining the Faculty of Education in 2005, Dr. Farrugia-Kriel has also guest lectured at universities in South Africa and Malta, as well as taught at Kingston University and Rambert School. She is an experienced undergraduate and postgraduate External Examiner and has examined Ph.D. theses for the University of Melbourne and the University of Roehampton. She is a former member of the Board of Directors (2012-2018) of the Society of Dance History Scholars, now the Dance Studies Association (USA).
The Cecchetti Society in England
Julie Anne Cronshaw – RBS Dip. TTC (FISTD) Enrico Cecchetti Diploma
Julie Cronshaw is a Teacher of the Cecchetti Method, a Fellow of the Imperial Society of Teachers of Dancing, and a Graduate of the Royal Ballet School's Teacher's Training Course. She is a current member of the UK Cecchetti Committee.
Miss Cronshaw danced professionally in Germany, the United States, and Russia before returning to the UK to found Highgate Ballet School in 1995 where she continues to direct and teach. She has taught internationally in France, Italy, Poland, and Japan.  She is also a registered Gyrokinesis teacher.
In 2007, Miss Cronshaw became a founding member of the non-profit teaching society, the Société Auguste Vestris Paris, and in 2016, for the Italian branch. In 2012, Highgate Ballet School hosted the first-ever collaboration weekend of workshops with 'Vestris', bringing together Bournonville, Cecchetti, and the Escuela Bolera.
Ms. Cronshaw's work with master ballet teacher Roger Tully across two decades led to a new understanding of the Physical Principles behind the Cecchetti Method, which now form the backbone of her own teaching methodology. In 2015 she created the website and blog, The CecchettiConnection.com, as a forum to present the Method. She has directed and produced a documentary released on YouTube in January 2021 called Ballet's Secret Code, with its accompanying website: www.balletsecretcode.com and a series of shorter videos called 'Tips from a ballet teacher'.
Miss Cronshaw writes regularly and has published articles for Vestris, International Cecchetti Societies, and ISTD Dance magazine.