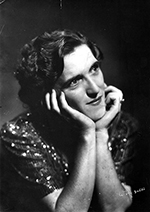 Dorothea McNair, Nancy Hooper-Graham and Eileen Keegan were pioneer teachers of the Cecchetti Method in Natal, South Africa. David Poole called them "The Three Graces of Natal."
They were very different in temperament, but the one feature common to them all, was their love of and belief in the Method. They were very aware of their responsibilities as custodians of the Method which they taught with great intelligence and integrity.
---
Dorothea NcNair begged her mother to enrol her for lessons with Nancy Hooper after seeing her dance at a charity performance in Durban. She was Hooper's first student.
Having successfully passing her Grade examinations, she went to London to study the Major work as did so many South Africans. No Major examinations were held in South Africa at that time. As had her teacher before her, she went to Marie Rambert for ballet, Karsavina for mime and she also studied with Sokolova. She was told by Rambert that she would never be a dancer but that she would be a fine teacher.
The first pupil, with whom Rambert entrusted McNair, was a young man, Billy Cook, who worked as a clerk in the Smithfield market thus being unable to attend the usual morning class. He was inspired by Ashton's "The Tragedy of Fashion" and wanted to know more about ballet. McNair put him through his Cecchetti Elementary and Intermediate examinations. Once Cook decided to join the Rambert Company he changed his name to Antony Tudor.
McNair's physique was quite unsuited to classical ballet. However, this enabled her to understand the frustration of students unable to perform naturally, the difficult exercises set by Cecchetti. Her vitality and encouragement given so freely to students who were able to convince her of their sincerity in learning the Method, was memorable. Corrections were not only given, but the means of achieving them were so clearly described. Rambert's prediction was correct, she was a fine teacher.
Dorothea McNair taught at the Ripman School for several years before returning to Durban from where she began to teach. Here she never had a large studio and rarely more than 14 or 16 pupils, all of whom were Major students. Later on she and Eileen Keegan joined forces and taught together. As Nadia Nerina has testified, this was a marvellous combination of personalities and knowledge.
McNair went on to teach at the University and also pioneered a full time ballet course at the Durban Technical College. She later taught in Pietermaritzburg where she trained small children for the first time. She thoroughly enjoyed this new experience and in the mornings, was able to teach the Method as Cecchetti originally did, going through the days of the week and not dividing the exercises into syllabi for examinations. Past students all over the world are forever grateful for what she taught them.
In Natal, the Dorothea McNair Memorial Cup is awarded to the best student taking a qualifying examination at any level. This trophy has also been awarded to the most outstanding student teacher candidate.