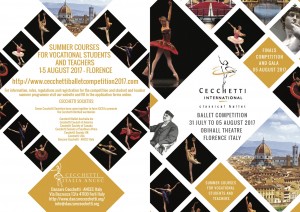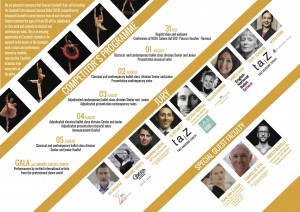 We are very happy to announce that very soon that the website: http://www.cecchettiballetcompetition2017.com  will be online. Devoted to the CICB Competition and Summer Course for Students and Teachers 2017 all competitors, and participants will be able to register online as well as finding information regarding accommodation.
Please find below the competition rules & regulations including lists for solo variations for Junior and Senior competitors and a PDF link.
See you in Florence Italy in August 2017!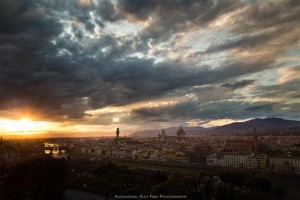 Cecchetti International Classical Ballet Competition Guidelines
A. ELIGIBILITY
1. The competition will be comprised of a junior and senior division.
2. Minimum age 14 and maximum 16 at the commencement of the competition for the junior division and minimum age 17 maximum age 20 at commencement of competition for the senior division.
3. Have passed Cecchetti Intermediate at the junior level and Advanced 1 exam at the senior level, (or equivalent level nomenclature used by each organization)
4. Be a student and not a professional dancer (i.e. anyone who is employed as a full time dancer with a professional dance company. This includes dancers who are not currently employed but have been in the past)
B. CONTENT TO BE ADJUDICATED FOR EACH DIVISION
1. One classical ballet class, on stage, that is adjudicated and open to the audience
2. One contemporary class to be observed by adjudicators but not marked, to be seen on stage and open to the audience
3. Classical ballet solo, from approved repertoire, on stage
4. Solo of own choice, neoclassical, contemporary, or modern genre (hereafter known as contemporary)
5. Contemporary solos in the junior division are not to exceed 2 minutes and in the senior division not to exceed 2 ½ minutes
6. Competitors will perform both solos, and adjudicated ballet class, before any selections are made for the finals
7. Competitors to perform solos in order of their performance number
C. ADJUDICATORS
1. Adjudicators to sign contract in advance
2. There should be either 3 or 5 adjudicators (must be an uneven number, except in exceptional circumstances) with the majority of the panel having classical expertise.
3. One adjudicating panel for the whole event
4. The adjudicators should not have any previous association with the competitors or their studios before or during the competition.
5. All details of age and nationality should not be available to the adjudicators prior to the adjudication taking place
6. The adjudicators should not have been involved in the original selection process
7. Ideally at least one international representative if cost and legal matters allow
8. To be selected for the finals the Judging "weight" will be counted: ballet class 1/3, Classical solo-1/3, solo of choice -1/3 and the selected finalists would perform both solos once again and from those finalists the awards will be chosen.
9. Communications with the adjudicators either by the competitors, teachers, or other interested parties during the competition is prohibited.
D. AWARDS AND SCHOLARSHIPS
1. Monetary prize categories to be determined by the host organization based on these suggested categories:
2. $5,000 USD Maestro Enrico Cecchetti Award (to be awarded to the top dancer in the senior division)
3. $2,500 USD Most Promising Dancer Award (to be awarded to the top dancer in the junior division)
4. $1,500 USD Musicality Award (to be awarded to a dancer in each division)
5. $1,000 USD Contemporary Award (one to be awarded to a dancer in each category)
6. $500 USD Audience Choice Award (one to be awarded to a dancer in each category)
7. The panel of adjudicators will present the above awards on stage.
8. All competitors will be eligible to win scholarships to be awarded on stage by representatives of the schools/companies or their designee.
E. COSTUMES
1. Costumes worn for the solos are the responsibility of each competitor, with footwear appropriate to the dance
2. Classical grooming and attire is expected for the classical class
F. COACHES/REHEARSAL SCHEDULE
1. Each organization shall receive one complimentary ticket per competitor to all paid events to be given to one coach per competitor by the team manager. Non-finalists receive a complimentary ticket to the final event.
2. Competitors shall have equal access to rehearsals in the studio and on stage as determined by the host organization.
3. All coaches will sign and adhere to the guidelines as established by CICB.
G. GUIDELINES FOR CHAPERONES/COMPETITORS
1. Competitors under 18 must have a responsible adult as chaperone throughout the competition.
2. It is suggested that there is a minimum of one chaperone per 8 children.
3. All competitors will sign and adhere to the guidelines as established by CICB.
4. Each organization will ensure that all competitors have proper documents for travel.
H. ADJUDICATED CLASS
1. Parameters to be determined by CICB and shall be non-syllabus with the addition of the first set of port de bras in the class for juniors and the second set in the class for seniors. The host organization will ensure the faculty is apprised of the guidelines.
2. The classes will be taught prior to the presentation on stage
3. In the adjudicated class, groups should be rotated so that the lower numbers are not always first.
4. The teacher should not be one of the adjudicators
I. REPERTOIRE LIST FOR SENIOR DIVISION – FEMALES
La Bayadere
Composer: Minkus  Choreographer: Petipa
First Variation Shades
Second Variation Shades
Third Variation Shades
Gamazatti's variation
Paquita
Composer: Minkus  Choreographer: Petipa
Any of the female variations
Coppélia
Composer: Delibes  Choreographer: St. Leon
Act Three: Swanhilda's variation
The Nutcracker
Composer: Tchaikovsky  Choreographer: Ivanov
Sugar Plum Fairy
Sleeping Beauty
Composer: Tchaikovsky  Choreographer: Petipa
Act Three: Aurora's Variation
Princess Florine Lilac Fairy
All Fairy variations
Giselle
Composer: Adam  Choreographer: Perrot/Coralli
Act One: Giselle's variation
Flower Festival of Genzano
Composer: Helsted  Choreographer: Bournonville
First female variation
Don Quixote
Composer: Minkus  Choreographer: Petipa
Act Two: Queen of the Driads
Act Three: Kitri's Wedding Pas de Deux variation
Napoli
Composer: Helsted  Choreographer: Bournonville
Act Three Any of the female variations
La Esmeralda
Composer: Pugni  Choreographer: Perrot/Petipa
Act Two: Esmeralda's variation
Swan Lake
Composer: Tchaikovsky  Choreographer: Petipa/Ivanov
Act One: Either female Pas de Trois variations
II. REPERTOIRE LIST FOR SENIOR DIVISION – MALES
Don Quixote
Composer: Minkus  Choreographer: Petipa
Act Three Grand Pas de Deux, male variation
Giselle
Composer: Adam  Choreographer: Perrot/Coralli
Act Two: Albrecht's variation
Le Corsaire
Composer: Drigo  Choreographer: Petipa
Act Two: Grand Pas de Deux, male variation
Napoli
Composer: Helsted  Choreographer: Bournonville
Act Three: Any of the three male variations
Paquita
Composer: Minkus  Choreographer: Petipa
Either of the male variations
Sleeping Beauty
Composer: Tchaikovsky  Choreographer: Petipa
Act Three: Bluebird variation
Prince Désiré's variation from the Pas de Deux
Swan Lake
Composer: Tchaikovsky  Choreographer: Petipa
Act Three: Black Swan Pas de Deux male variation
III. REPERTOIRE LIST FOR JUNIOR DIVISION – FEMALES
Coppélia
Composer: Delibes  Choreographer: St. Leon
Act One: Swanhilda's variation
Don Quixote
Composer: Minkus  Choreographer: Petipa
Act Two: Cupid
Giselle
Composer: Adam  Choreographer: Perrot/Coralli
Act One: Both female Peasant Pas de Deux variations
Napoli
Composer: Helsted  Choreographer: Bournonville
Act Three: Teresina's variation
Sleeping Beauty
Composer: Tchaikovsky  Choreographer: Petipa
Prologue: Fairy of the Crystal Fountain, Fairy of the Golden, Vine Fairy of Golden Glade, Songbird Fairy, Fairy of Temperament
3rd Act: Silver/Florestan Variation Bluebird~ Princess Florine variation
Swan Lake
Composer: Tchaikovsky  Choreographer: Petipa
Act One Both female Pas de Trois variations
IV. REPERTOIRE LIST FOR JUNIOR DIVISION – MALES
Coppélia
Composer: Delibes  Choreographer: St. Leon
Act Three: Franz
Giselle
Composer: Adam  Choreographer: Perrot/Coralli
Act One: Peasant Pas de Deux male variation
Graduation Ball
Composer: Strauss II  Choreographer Lichine
The Drummer Boy variation
Harlequinade
Composer: Drigo  Choreographer: Petipa
Harlequin's variation
La Fille mal Gardée
Composer: Hertel  Choreographer: Gorsky
Act Two: Colas' variation
Napoli
Composer: Helsted  Choreographer: Bournonville
Act Three: 1st male variation
Swan Lake
Composer: Tchaikovsky  Choreographer: Petipa
Act One: Pas de Trois, male variation