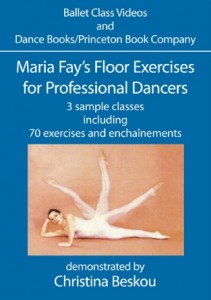 The viewer is taken on a journey through 3 sample classes at different technical levels, preceded by a warm-up section. In the Warm-up are the movements which help make the dancer more pliable, loosening the joints and stretching the muscles gradually. With emphasis on breath control, the Floor Barre section contains all the exercises adapted from classical ballet barre practice in addition to some movements performed in the center that can be executed while lying on the floor.
3 Sample Classes, Including 70 Exercises and Enchaînements , Musical Accompaniment
Maria Fay, a native of Hungary, was leading dancer and choreographer for the Budapest State Theatre Ballet Company. Moving to England in 1956, she started to teach at the Royal Ballet School , the Royal Academy of Dancing, and opened her own studio. Based upon exercises developed for her own injuries, she invented others while working with injured dancers, eventually producing her floor-barre system to the benefit of the whole dance community. She has taught and coached in 26 internationally-renowned ballet companies, including the Royal Ballet, the Royal Winnipeg Ballet, the Royal Swedish Ballet, the Royal Danish Ballet, the Dutch National Ballet. The National Ballet of China, Ballet Rambert, London Festival Ballet, and the National Ballet of Spain.