CICB CELEBRATING THE CECCHETTI SOCIETY CENTENARY - 1922 – 2022
Cecchetti International Classical Ballet is delighted to be celebrating the centenary of the formation of The Cecchetti Society in London, UK.
The Cecchetti Society was created by Cyril Beaumont in London in 1922, with Maestro Enrico Cecchetti as its first President and his wife Giuseppina, as Vice-President. The first members of the Cecchetti Society were: Cyril Beaumont, Margaret Craske, Derra de Moroda, Molly Lake, Jane Forrestier, Dame Marie Rambert, Dame Ninette de Valois.
The Cecchetti Society established graded examinations for young dancers, as well as professional examinations for adults. These trained dancers in the principles of the Cecchetti Method, preparing them to study the beautiful enchaînements that Cecchetti developed to train the professional dancers with whom he worked. In 1924 The Cecchetti Society became a part of the Imperial Society of Teachers of Dancing.
From this Society, branches developed all over the world and in 1997 an international association was formed – Cecchetti International Classical Ballet (CICB).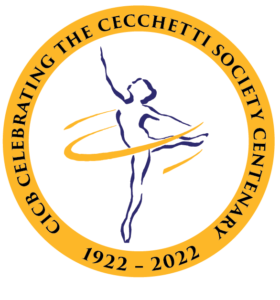 The founding members of CICB are:
This International Society is committed to the promotion and expansion of the Cecchetti method of Classical Ballet and to its continued progress in techniques and training into the future throughout the world.
CECCHETTI INTERNATIONAL CLASSICAL BALLET INAUGURAL AWARD
An inaugural Cecchetti International Classical Ballet (CICB) Award is to be established in 2022 to celebrate the centenary year of the formation of The Cecchetti Society. The Award, acknowledges Outstanding International Contribution and Dedication, Dedication' that has benefitted all CICB member organisations and the wider Cecchetti international community.
CICB acknowledges with thanks, the very generous financial support from The Cecchetti Society Trust, to make this Award possible.
The recipient of the Award will be announced early in 2022 and the Award will be presented in the recipient's country of abode.
CENTENARY CELEBRATIONS 2022
CICB is celebrating this centenary year with special events that will take place in 2022 and all over the globe.
CICB member organisations are sharing special events throughout the year, including conferences, classes, and lectures designed to celebrate the network of Cecchetti Method based schools and associations all over the world and discuss how the work of Maestro Enrico Cecchetti is relevant to dancers of today.
Open to all, some events are offered free others require registration and a fee to participate. Please follow the links on the calendar of events for further information.,
The work of Cecchetti International Classical Ballet can be expanded through the generosity of donors. Your contribution will support the centenary celebrations and other aspects of the ongoing work of CICB; supporting young dancers, providing support for the CICB Competition, developing resources, etc. The member organisations of CICB are extremely grateful to all who support the work of our society.