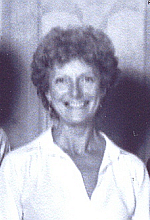 Looking back over the many years from the time I first began to learn to dance until my partial retirement nearly sixty eight years later, I realise how much of my life was destined to be involved with the name of Enrico Cecchetti; and that my teachers would have been trained either by the Maestro himself or by his own pupils after he closed his London school and returned to Italy.
My first dancing school was 'The Ripman School of Dancing' in South Croydon, which was a branch of Olive Ripman's London School, England. We were taught Cecchetti, Greek, National, Character, Ballroom and Tap. Our teacher Lilian Thomas, entered us for examinations in these ISTD branches, and also for competitions. The most well known was The All England Sunshine Competitions, in aid of the blind. My first examination was for Grade II Cecchetti when it was the custom to have three examiners for every three entries. We were not warned of this, so that when we entered the examination studio we were very taken aback to be confronted by none other than, Cyril Beaumont, Laura Wilson and Peggy Van Praagh. I can remember to this day the impression they made as we gazed up at them. Mr. Beaumont had red hair that looked as if it were standing on end, Miss Wilson looked rather serious, and Miss Van Praagh was radiant and smiling. Their combined characteristics must have created a comfortable balance as we soon recovered from the shock and enjoyed the examination.
In 1939 at the outbreak of the war, the Ripman and Cone Schools amalgamated under the name of "The Cone Ripman College", and evacuated to Shamley Green, near Guildford. It later became the "Arts Educational". An important event at the school was the arrival of Margaret Marsh for the major Cecchetti work prior to our examinations. She would enthrall us with her stories of the time when she went to Italy to train with Maestro Cecchetti, at La Scala, Milan.
After the first year at Shamley Green, the College moved to one of England's gracious country homes near Leicester. That year we were taught the entire corps de ballet and variations of "Les Sylphides" as well as the man's variation for John Gilpin. He joined the college at the age of eight and immediately entranced everyone by his brilliant technique, talent and personality. He was a very friendly and natural little boy who loved to laugh and joke.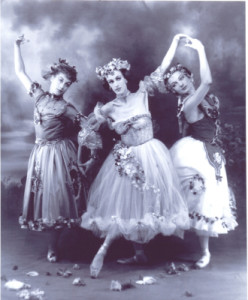 During the summer holidays I went to audition with Marie Rambert, who was giving her company classes at the famous West Street studios near Cambridge Circus. After the class she called me and said she needed someone to replace a dancer in the corps de ballet of Les Sylphides that same afternoon, at the Arts Theatre, Leicester Square, where her company was performing in the Lunch Time Ballets. I was rushed to the theatre for a quick run through on stage with everyone and we hardly had time to get made up and dressed before the curtain went up! This led to my being taken into the company at thirty shillings a week, to try and learn as much as I could, as well as appearing in 'walk on' parts. These were mainly as the Dresser, in Anthony Tudor's 'Gala Performance', and as a hidden mermaid in Andrée Howard's 'The Mermaid'. This involved crouching behind a wooden wave for a very long time, waiting for Sally Gilmour (the Mermaid) as she traveled backwards on pointe towards my wave before jumping over it into the sea. On the last extremely fast notes of the music, I would stand up, take Sally's arm, lift her over the wave as she jumped, and disappear behind it again with her; all as the curtain came down. What training that was in timing and precision!
Marie Rambert had been a member of Diaghilev's famous company, the Ballets Russes, during the time when Maestro Cecchetti was ballet master. In her own company classes she nearly always trained us in his method, including the men's work; one of her favourites being the centre pirouette with the hops à la seconde. She never had a pianist and preferred to whistle for every class. Her great talent lay in being able to bring out our artistic possibilities in the wonderful repertoire she chose for war time audiences. All my life I have been grateful to her for instilling in us the art of interpretation. In class she brought out our temperament, and in performances it was normal for us to share both principal roles and corps de ballet, with very few exceptions.
Due to two financial crises the company had to be disbanded for a while. Molly Lake, Nesta Brooking and Peggy Van Praagh gave classes at West Street to which I would go during these periods. They were wonderful classes that gave us much joy. Peggy would look for professional standard, Nesta for detail, and Molly for quality and flow of movement. And did we learn to cover the floor! For a short time I worked with Molly in The Ballet Guild, a company run by herself and her husband, Travis Kemp. Also Nesta organized performances with her own choreography and contributed towards dancers gaining in both theatrical experience and inspiration.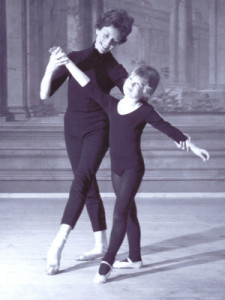 Once more reunited with the Ballet Rambert we continued our touring of the British Isles. New members joined us and new ballets were performed; the main one being 'Giselle' in which Sally Gilmour received an outstanding and historical success in the title role. We danced in ballets by Michael Fokine, Anthony Tudor, Frederick Ashton, Walter Gore, Frank Staff and Andrée Howard. We never tired of this wonderful repertoire performing their ballets night after night, gaining much experience and enrichment of soul. Towards the end of the war during a London season at the King's Theatre Hammersmith, we continued performing during the 'blitz' when flying bombs were being dropped all round us. I was so scared one night that I accidentally put my Sylphide costume on during the interval before the second act of Giselle. While trying to stand motionless in the front line of a row of 'willies' I suddenly heard Madame Rambert hissing at me from the wings telling me the awful truth. It was a long time before I could get off the stage, meet her justified wrath, and rectify the error.
Shortly after the war ended we were sent to Germany under ENSA to entertain the troops, dressed in army uniform. After a terrible journey, the destruction and desolation we saw there affected us deeply. In contrast to this we were given parties and banquets nearly every night and champagne flowed like water. Few of us even knew what alcohol tasted like. This, combined with the sense of freedom and euphoria that we felt after six years of wartime restriction, helped us not to think about the destruction. Even our performances improved! In Berlin we met Joan McClelland's husband who was stationed there. After a lunch party, with champagne, he took us to see the famous room where the Peace Treaty had been signed only a few months before. He lifted me onto the very large, four-sided polished table on which the Treaty was signed. He told me to dance! I pirouetted round on it and just managed not to fall off.
Once back in England again everything was concentrated on our future tour sponsored by the British Council in Australia and New Zealand. We were excited at the thought of what lay ahead and of going to countries so far away. The journey took us nearly a month, travelling to Halifax by boat, then on to Chicago by plane where we stopped for a night before flying to San Francisco. From there we traveled in a troop ship to Sydney. The daily classes, given by Frank Staff and Walter Gore, were held on the top deck hanging on to the gun turrets for the barre. They soon had to be cancelled due to rough seas and tropical heat. Before arriving in Sydney we stopped off at Pago Pago, Suva and Auckland, New Zealand. The director of the theatre in Auckland came to meet us and took a group up into the hills for refreshment. When it was time to leave to catch the ship on to Sydney a thick mist came up and we were late arriving at the port. To our horror we saw the ship sailing out of the harbour! A small tug was hired, the ship was stopped. We eventually climbed aboard on a ladder that swayed in the wind and bounced with the ship as it soared up and down on the high waves. None of us lived that down.
The 1947-48 tour in Australia and New Zealand was exceptional. Everywhere we went we were met with enthusiasm, kindness and hospitality; lasting friendships were made. I remember Madame Rambert telling us she had been called to examine Cecchetti pupils at a school in Melbourne and in New Zealand. Two former pupils, Marjorie Clarke and Dorothy Stamford took their Intermediate (Adv. 2) examinations and were soon, themselves, made examiners, as was Estelle Anderson of Sydney. Amongst Estelle's pupils was past Australian Chairman and current Chairman of CICB, Robina Beard. Sally Gilmour and Margaret Scott met their future husbands in Melbourne and stayed behind when the company returned home to England; as did several others of the company including myself. A few of us joined the reopening of the Australian National Ballet directed by Joyce Graeme. We also danced in Laural Martyn's Ballet Guild.
On my return to England I joined the Empire Ballet, Leicester Square. Frank Staff was both director and choreographer and I performed four times a day between films.
I was fortunate that Stanislas Idizikowski was living in London and gave classes in his flat quite near the theatre, to which I would dash between the shows. He looked exactly the same as he did when he taught in London at the beginning of the war, and could demonstrate just as well. He made one feel welcome and appreciated, which was encouraging to say the least, as I always associated him with the great Russian ballerinas in the days of Diaghilev and Maestro Cecchetti. The beautiful Russian dancer, Vera Volkova, was teaching at West Street and I would go to her classes as well. It was interesting to see how Maestro Cecchetti's influence was still part of the Russian training. During the following year with the Empire Ballet, Frank Staff returned to South Africa and Alan Carter (see 2003 CICB newsletter) was called to replace him. Shortly after his arrival I received an offer to work in Italy with two other dancers from the company, Jeanne Artois and David Gilbert.
Following much thought and quite a few sleepless nights, we left for Milan in the summer of 1951. After a few months we came to love Italy, the work and the people. When our contracts expired we received further offers. Jeanne and David decided to return to England but I stayed on for what I thought would be only a few months. I became freelance and performed with companies in all the major opera houses in the country. During our travels I met and worked with dancers, choreographers and teachers all associated with Maestro Cecchetti. In Florence, where I met my future husband, I performed regularly at the Teatro Comunale (opera house) during ballet seasons with works choreographed by Aurelio Milloss, Marguerita Wallman and Nives Poli. In 1955 Marguerita Wallman invited me to be a guest artist at the Salzburg Summer Festival in Austria. In 1959-60 I received an invitation by Aurelio Milloss to dance at the Opera House in Cologne, Germany. Miss Poli was a former pupil of the Maestro with whom she studied at La Scala, Milan, while still a member of the company. Her classes were exceptional for her elegant approach to the entire lesson and the beautiful quality she attained in centre adage and enchaînements. The maestro's influence was prominent in all her work.
One of our ballet masters and a former dancer, Carlo Faraboni, had learnt the Cecchetti method from his own father, who had been a pupil of Maestro Cecchetti at La Scala. Faraboni took us through many of the exercises, his favourite being the 'diamond step' which he demonstrated at great speed, and always expected the same from us.
A regular colleague, Alberto Testa, had learnt the method with Cecchetti's son, Grazioso, at his school in Turin. He danced at the Regio theatre in Turin in ballets choreographed by Grazioso, the company director, together with Ricardo, Grazioso's son. Alberto is a ballet critic, an author of books on ballet and a dance historian.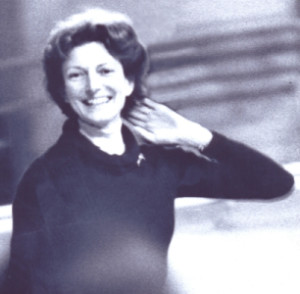 During the summer months it is the tradition for theatrical performances to be given in the wonderful amphitheatres and temples all over the country; particularly in Sicily. We toured the island with the artistic director and choreographer, Aurelio Milloss, former Hungarian dancer and choreographer in Europe, also connected with Maestro Cecchetti. One year Milloss included in our programme Balanchine's ballet, 'Apollon Musagette' which, when performed at Selinunte in Sicely probably had its most ideal setting within the ruins of a Greek temple, dedicated to Apollo, in 628 BC. Dancing amongst the elegant columns and friezes under the myriad of stars, with the sea below reflecting the distant lamps of fisherman's boats was inspirational. On some nights the two blended into one, obliterating the horizon. An equally inspiring theatre was in the amphitheatre at Taormina where artists are well known to excel in their performances! The amphitheatre in Verona, the Arena, has a special tradition that before the performance begins and while the lights are dimmed, the audience lights and holds candles. Watching the auditorium at this moment from a darkened stage was magical, especially when the audience numbered thousands, as it generally does at that magnificent place. We performed there in 'Aida', choreographed by Marguerita Wallman, with Maria Callas in the title role at the start of her career. No one would believe it, but at that time she was four times the size of her later sylph-like figure.
Several years later Alfredo Rodrigues called me to dance in Cinderella, at La Scala Theatre, Milan, as one of the ugly sisters, with Joyce Graeme. We performed for one complete season, and repeated it again a year later. Carla Fracci was the understudy for Violetta Verdy in the title role, taking over for her when Violetta had to return to Paris. This occasion was to be the beginning of Carla's career and she soon became an international star. She was trained at La Scala by Esmée Bulness, our ballet mistress, whose reign there lasted for many years.
English by birth, Esmée had trained in London at an early age with Madame Astafyeva, and later at the Teatro Colon, Buenos Aires, where she became director of the company and worked with Woisykovsky. (Woisykovsky had trained with Maestro Cecchetti during his period in Poland, and was later in Diaghilev's Ballets Russes along with Idzikowsky.) Esmé Bulness' classes were full of vitality and perfect synchronization, incorporating the Cecchetti method without particular emphasis, with her own arrangements for the classwork, particularly her own brilliant enchaînements. Her fame reached Dame Ninette de Valois who invited her to teach at the Royal Ballet School!
Another exceptional Italian dancer, Attilia Radice, the prima ballerina assoluta of her time, had also trained at La Scala during the last years of Cecchetti's life. She took private lessons with him and when she had to be absent from Milan they exchanged many letters. I had the good fortune to see her dancing at the Opera House in Rome, and she completely took my breath away. Her purity of line, simplicity, brilliance, quality and feeling shone forth, leaving one with a true sense of the real meaning behind Cecchetti's teaching. The South African dancer, Nadia Nerina, is renowned for her statement that she could never have danced all the principal roles in the classics with the Royal Ballet if she had not learnt the Cecchetti method.
After the first few years in Italy I made my home in the beautiful city of Florence, and married a true Florentine. I continued working in the theatre, dancing in films and on television, and also performing in Carla Fracci's Company with 'The Festival of Two Worlds', at Spoleto, founded by Giancarlo Menotti. André Prokovsky from London's Festival Ballet headed the bills, in ballets by Millorad Mishkovitch and Beppe Menegatti.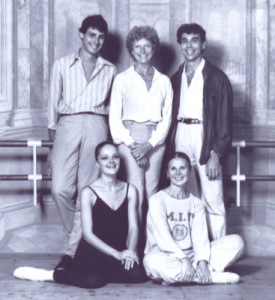 In 1963 I opened the Scuola di Danza Hamlyn (the Hamlyn School of Dance) in Via Maggio in one of the Renaissance palaces not far from the river Arno. The rooms are large, with high ceilings and beautiful 17th century frescoes.
One day we were visited by the late Sir Arnold Haskell, balletomane, dance critic and writer of books on ballet, who I had not seen since the early days in London. He suggested I contacted Mr. Cyril Beaumont concerning a bureaucratic problem to do with permission to teach in Italy. On Mr. Beaumont's advice I attended the Senior Cecchetti Summer School at Mill Hill near London, organised by Rita Emmerson and Moya Kennedy. It was there that I first met Diana Barker. I qualified as a teacher of the Cecchetti method, with Diana examining together with Margaret Marsh and Laura Wilson; it was as if time had stood still.
Three years later I planned on entering some of our pupils for their first Cecchetti examinations, but it was not to be. On November 4th, 1966, Florence was hit by a disastrous flood when the city was invaded by a twelve foot wall of mud and water from the river Arno. Dozens were drowned; streets, shops, hospitals, industrial plants, works of art, libraries, churches, cinemas and theatres were utterly wrecked or gravely damaged. We were completely cut off from the rest of the world for many dramatic hours during which the heroic struggle began to save the city from the stranglehold of mud and crude oil. The school was ruined. If it had not been for the help of the Cecchetti Society (instigated by Cyril Beaumont, Chairman of the Society), the Royal Ballet Benevolent Fund, and many friends from far and wide, I doubt if we would have been able to reopen again. It took us four months to clear the mud away, wash and dry the place throughout, have new wooden floors put down in the studios and replace two pianos. A year later Rita Emmerson came over to examine and was the first to establish a tradition of ISTD Cecchetti examinations in Italy. She would always give clear and detailed examination reports from which both candidate and teacher could benefit. Her comments in the 'final remarks' section, regardless of the result, never failed to give a word of encouragement and praise where appropriate, for any particular qualities shown during the exam. We learned as much from the reports as we did from her personal comments, which she always gave when asked.
By 1967 the Cecchetti method was well established in the curriculum which we alternated with unset work. Before long an assistant was needed. By good fortune I found Caroline Southam who was then living in Florence, after a career with the Royal and Festival Ballet Companies (the latter now known as the English National Ballet). Caroline stayed with us for several years, bringing with her a wealth of creativity.
Next, Phrosso Pfister, then principal of the London College of Dance and Drama sent us Gillian Whittingham. With her arrival we introduced ISTD Modern and National into the curriculum. Gillian first learnt the Cecchetti Method with Kathleen Yates at her school in Purley, Surrey. Previously Kathleen had been assistant to Lilian Thomas at the Croydon Branch of The Olive Ripman School of Dancing, where I remember her dancing round demonstrating the polka outside a large circle of us children struggling to master it. Gillian proved herself a very promising teacher and choreographer. She is presently Maitre de Ballet and Repetiteur at The Scala Theatre, Milan.
Prudence Bowen from Australia, then living in Florence, came to teach the students for a year. Jane Lawton arrived from The Royal Ballet Teachers' Training Course, sent by Nora Roche. Rita Gramigni taught the younger pupils. Each one contributed to the progress of the school in their own particular and valuable way.
As soon as the students were ready I started to give repertory classes introducing the classical variations and mime sequences from the classics, ranging from comedy to drama. Guest teachers were invited at the end of the summer term to which Belinda Wright, my friend and colleague from the Ballet Rambert days, came for several years running.
A number of the students became professional dancers in Italy and abroad, others qualified as teachers, and some opened their own schools.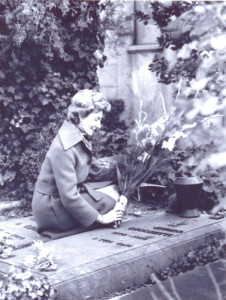 In the seventies, Rita Emmerson asked me to teach at the Senior Cecchetti Summer School at Mill Hill; at the same time Kathleen Yates and Jill Payne invited me to teach at the Junior Cecchetti Summer School. I was destined, happily, to meet up after many years with, Nesta Brooking, Molly Lake, Margaret Marsh, and Laura Wilson, all of whom contributed their well known and valuable reputation to the classes. Unfortunately I was seldom able to stay the whole week, but at Mill Hill I remember vividly Margaret Saul, by then residing in Canada, who came to teach when she was in England and gave inspiring classes. Helene Wolska used to come regularly for a few years, always bringing her faithful dog along who slept peacefully through all the classes on his special blanket. Helene's demonstration of the Cecchetti work was always very meticulous and she had an alert eye for keeping the method up to its correct standard. Her technique was strong enough to be able to work in high heeled shoes which she seldom, if ever, took off. During the war Helene was guest artist with the Ballet Rambert in between her appearances with the Anglo Polish Ballet, later to become the Markova Dolin Company, with Alicia Markova and Anton Dolin. The last Senior Summer Schools I attended at Mill Hill saw the arrival of Nancy Kilgour, who brought with her the fresh air of Canada, combined with her bravura and charm. On one occasion Leslie Edwards came from the Royal Ballet to give a talk on his experiences in the Company. He had a great sense of humour and a gift for lecturing that kept us riveted to our chairs, and often doubled up with mirth listening to his fascinating stories. His book "In Good Company" is well worth reading for it's history of The Royal Ballet, with whom he worked for nearly sixty years, and it's wealth of information of life in the company. In 1932 Leslie had been a member of the Ballet Club, directed by Marie Rambert at the present Mercury Theatre in Nottinghill Gate, London, where Frederick Ashton, Antony Tudor and Andrée Howard created works of magic and genius. Other teachers that I can remember at Mill Hill were Molly Lake, Patricia Hardy, Carole Hill, and Jack Bickle from Canada. Later, at the Arts Educational School, and at Lilleshall Hall in Shropshire, Nora Roche, Sheila Kennedy from Canada (a pupil of Margaret Saul in England), Eve Pettinger, Eileen Langman, and Shiela Darby and Rose Marie Floyd from the USA all contributed to the renowned list of teachers. Richard Glasstone and Diane van Schoor came later, bringing further nuances to the work through Richard's keen explanations, sense of discipline and sensitivity, and Diane's high quality of work that took one's breath away. I also remember the arrival of Anita Young who enchanted us all with her delightful interpretation and teaching of the Duck from Ashton's ballet 'La Fille Mal Gardée', and her beautiful classes. There are many others whom I may regrettably have missed.
Ena Child dominated the early Cecchetti Summer schools with her inspiring accompaniment, and Ross Alley stands out in my memory not only for his own particular musical approach for ballet classes, but also for his extraordinary sense of intuition concerning the spirit of the teacher, and the class in general. This he unconsciously picked up and interpreted by playing music that created a continuous flow of inspiration for everyone, right to the final curtsey.
I visited America with Margaret Marsh for several years to teach for the Cecchetti Council of America in Michigan organised by Silvia Hamer, Marjorie Hassard, and Jane Miller. There I met Marnel Himes, Lee Ann King and the late Vergiline Simmons. I flew to California to teach on the west coast where I met Aleta Davis. I shall never forget everyone's kindness, hospitality and friendship, or the many colleagues, and the pianists.
In 1987 I was appointed an examiner for the Cecchetti Society.
All too soon, the time came when I had to make the decision to leave the school in the hands of others. Over twenty years in the theatre and twenty three years with the school were beginning to take their toll. At this time two enthusiastic young dancers, Franco De Vita and Raymond Lukens were working in the theatre in Florence and came to teach with us. A few years later they took over directorship.
In 1989 they founded ANCEC the Italian Cecchetti Society, of which I was appointed President. Franco and Raymond established a new style to the school and had a long and successful reign before leaving to work in America. Susan Brooker, originally from the London College of Dance and Drama, joined Franco and Raymond and assumed directorship of the school until 1999 when she also went to America.
In 1999 Nicoletta Santoro, one of my earliest pupils, became directress of the school. Nicoletta had had a successful career in the theatre becoming soloist with John Neumeier's company in Hamburg, and with Maurice Béjart's company in Lausanne. The work in the school continues to develop and progress with encouraging results on all levels.
On parting from the school I decided to enter for the Enrico Cecchetti Diploma examination. It was a case of then, or never! I went to Laura Wilson at her home in London, where I had taken many lessons with her through the years, to review the syllabus. Laura had warned me that the studio was out of use, so we used her sitting room to work in. Unfortunately the floor was slightly on a tilt which tended to throw me off my balance into the fireplace! We had so many laughs during the lessons because of this that it was not a trial at all. Laura recommended that I go to Gillian Dawson at her school in Chertsey, Surrey. I am most grateful to Gillian, not only for her clarity and patience, but also for her ability to demonstrate clearly the entire syllabus full out. Thanks to her and Laura I passed the examination.
About this time, two Italian books on the Cecchetti method called 'Fare Danza', by Flavia Papacena, taken from Cyril Beaumont's book of 'The Manual', and Margaret Craske's and Derra de Moroda's manual of the Allegro work, were published by Gremese Editiors. I was asked to do the supervision of the translation of the Allegro exercises for the second volume, and my husband to do the photography using pupils from the school.
Not long after, Betty Oliphant invited me to the National Ballet School in Toronto, Canada to coach students and teachers in the Major and Diploma work, to examine, and to revive a ballet from the Rambert repertoire. I chose Frank Staff's 'Czernyana' which we performed in England during the war. A light classical ballet, full of 'joie de vivre' and subtle humour, choreographed to some of Czerny's brilliant compositions for piano exercises. The pianist, Trevor McLain was of great help and astonished me at the first rehearsal by playing the music perfectly from start to finish. I found out later that he had been practicing it for weeks before my arrival. The warmth, kindness and hospitality that I received there, together with the experience of being able to collaborate in that wonderful institution was exceptional. Everyone's sense of activity, discipline, dedication and purpose with the high level of training throughout the school, was outstanding. Betty Oliphant had indeed bestowed her remarkable talents and influence on everyone. I have warm memories of the teachers and students, particularly of those with whom I worked for their Diploma examinations, and the students in 'Czernyana'. They all gave a very high leveI of work and performance. I have equally warm memories of Carole Chadwick, then Chairman of the Cecchetti Society of Canada and teacher at the school, and Mavis Staines who was about to take over directorship of the school. While examining there, I was delighted one morning to find myself taking qualifying examinations with Sheila Kennedy, whose keen observations were a revelation. I also went to examine at Joyce Shietze's school in Ottawa where I saw some promising work.
On my return to Florence, the ISTD asked me to be organiser for examinations in Italy covering schools from north to south in several of their branches, this I did from 1988-1993.
In 1992 I was invited to participate in a three day conference on Enrico Cecchetti at Civitanova Marche. For many years this was the hometown of the Cecchetti family, a refuge for the Maestro and a link with his ancestors. The conference was inspired by the fascinating research into the Cecchetti family dynasty by Livia Brillarelli, dating back to 1773. Her book, 'A Ballet Dynasty' has been published in Italian and English, containing a wealth of information and photographs. It was interesting to hear more about the Maestro through the various speakers' knowledge of his history, among whom was my friend and colleague of long ago, Alberto Testa, and Flavia Pappacena from the National Academy of Dance, Rome. The most outstanding event of the conference was the arrival of Elena and Giorgio, two of Maestro Cecchetti's grandchildren by his second son Cesare. They were in the audience and I was privileged to meet them as I came off stage on the last day. It was a very moving and unforgettable moment, especially when they said that they now felt they really knew their grandfather. They had heard little, if any, of his news during the five year period in London when he opened his school on Shaftesbury Avenue. The development of his method from those early days, into the vast following that it has today world wide, is largely due to Mr. Cyril Beaumont who recognised Cecchetti's genius and published his work in his book, 'The Manual'.
Not long after the Cecchetti Conference we had a number of visits to Civitanova Marche to attend special occasions organized by the Mayor in honour of the Maestro; Franco De Vita and Raymond Lukens also came. These meetings culminated in the 2nd Cecchetti International Conference in April, 1999.
Throughout all the manifestations at Civitanova Marche the photograph of Anna Pavlova with Maestro Cecchetti in her studio in London, was used for publicity. In the photograph, Cecchetti's left arm is in line with Pavlova's arms in "5th en haut", holding his famous teaching stick gracefully above her head. This photograph was displayed greatly enlarged throughout the town, both in the lower modern part and up on the hill in the medieval village called Civitanova Alta, where the Cecchetti's house still stands. This is also where the famous Annibal Caro Theatre is located. It was here in 1872 that Enrico, Cesare his father, and Pia his sister, took part in the inaugural performance; the box reserved for the Maestro, where he attended the theatre in his later years, can still be seen. This theatre was used for a demonstration of his work at the end of the International Cecchetti Conference.
An exceptionally artistic statue of the image of Pavlova and Cecchetti, by Professor Brattini, has been erected in the centre of a spacious square in the main town named after Enrico Cecchetti. The artist Brattini has also used this same image, for the 'Premio Cecchetti' award that is given annually to artists in the world of dance. I was honoured to receive this award in 1998, and keep it in my home together with two other cherished awards, the ISTD Overseas Award, 1989, and the Enrico Cecchetti Medal, 1996 which was presented by Mary-Jane Duckworth, then Chairman of The Cecchetti Society in London.
In 2001, my husband and I moved from Florence to one of the hills outside the city overlooking the beautiful Tuscan countryside. Here there is time to walk in the country, breathe the pure fresh air, enjoy the comparative peace of a country village, and reflect.
In reflecting on the work and approach of dancers to their work today, one is aware that the differences in culture and life have brought many changes. Generally, the high athletic demands, combined with other factors, seem to have lessened their possibilities to become creative artists, the beginnings of which are encouraged in the classroom from the earliest age upwards. Contemporary dance predominates performances of ballet nearly everywhere and one seldom sees the quality such as in a simple balletic Viennese waltz danced from the heart with soft, flowing grace, to name only one. Whatever the changes, the dance is an art, and like all forms of art, is created to uplift and inspire both interpreter and onlooker. Taking this into consideration the Cecchetti method is as valid today as it was yesterday, never forgetting the importance of developing all the qualities that Maestro Cecchetti intended his dancers to acquire and express; not only with the body, but above all with the heart and soul.
Written by Brenda Hamlyn – Bencini, dancer & teacher
Suggested Reading:
Brillarelli, Livia, 'A Ballet Dynasty: Cecchetti', 1995, DCD www.dancecollectiondanse.on.ca/dancecol
Edwards, Leslie, 'In Good Company', 2003, Dance Books Ltd. www.dancebooks.co.uk