Betty Oliphant (1918-2004)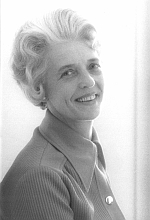 A true pioneer – so many dance related institutions thriving in Canada and elsewhere in the world today owe their beginnings and bear witness to the vision, dedication and genius of this remarkable lady.
Nancy Elizabeth Oliphant was born on August 5, 1918 in London, of English and Scottish ancestry whose motto was 'seek higher things'. There was much sadness and pain in her life, however she spent a happy childhood in London and Scotland especially enjoying the outdoors. Her mother gave her a rich exposure to the London theatre: Diaghilev's Company & other visiting ballet companies; Modern Dance, Mary Wigman and Kurt Joos; D'Oyly Carte Light Opera; Indian Classical Dance, Uday Shankar and Ram Gopal; Flamenco Dancers, Argentina and Argentinita. She saw Anna Pavlova dance 30 times, including her last performance at the Golders Green Hippodrome, enjoying most the dramatic numbers like Amarilla and The Dying Swan. She also saw Tamara Karsavina, Marie Rambert and many others famous dancers. She loved reading poetry.
At 5 she was put into ballet classes to strengthen her lungs after her third bout of pneumonia. Her teacher, Miss Sheen had taken classes with Laurent Novikov and Mme. Pruzina, both of whom had emigrated to London from Russia. Novikov had partnered Anna Pavlova and Tamara Karsavina and his time at the Imperial School, St. Petersburg, dancing with Pavlova and Diaghilev all coincided with Enrico Cecchetti's performing and teaching. From Miss Sheen, Betty received Russian training based on the original teachings of Cecchetti. Another student of Miss Sheen's had been Phrosso Pfister, who became Principal of the London College of Dance. Meeting Betty later she reminded her of a recital at the Scala Theatre, London, when she had been one of four chickens and Betty the mother chicken. At 7 Betty was taking daily ballet classes fitted in with her schooling and back to the studio for Pointe, National, Greek or Character classes after school. Her mother was insistent that her education should not be neglected.
When Betty was about 15, the ballet world started to decline, Diaghilev and Pavlova had died and Betty's mother thought she might need to be more versatile. She sent Betty to The Joan Davies and Zelia Raye School of Stage Dancing where she studied tap, acrobatics and musical comedy. After a few months of learning not to be a ballet snob Betty found these new dance forms very interesting and excelled in them. Joan Davies and Zelia Raye soon discovered her talent for teaching and gave her teaching and responsibility far above her age. Missing her ballet training, classes with Marie Rambert and later Tamara Karsavina were also fitted into her day. Miss Sheen had been a very technical teacher, from Karsavina Betty learned true artistry. She was also performing in shows, her first professional engagement was in a restaurant cabaret in the Strand at 14.
By 16 she was tall for a dancer in those days and realized that she was destined to become a teacher and would need some kind of certification. The RAD and Cecchetti were the only choices at that time and Betty considered Cecchetti as being closest to her training. She was introduced to Margaret Saul who had studied with Margaret Craske. Miss Craske had carried on Cecchetti's teaching when he left London for Italy. It was discovered that Betty had taught Miss Saul tap at Zelia Raye's studio! Betty felt she had made the right choice, for the first time she had discovered a systematic method of training. Miss Saul claimed she never gave Betty a correction twice, it was always applied the first time. In 1935 with daily classes for a year Betty passed two major Cecchetti exams and under Joan Davies she took the Intermediate Stage Branch exam. The ISTD had just created this new branch, the syllabus arranged by Zelia Raye and Joan Davies with Betty as guinea pig. The following year she was the first person to pass the Advanced Stage exam in all subjects, and at 21 became the youngest Fellow and examiner of the ISTD Stage Branch, and Licentiate, later an examiner, of the Cecchetti Society Branch.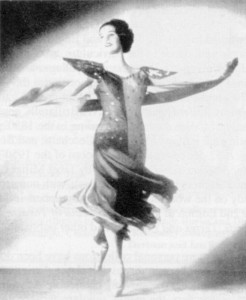 In 1936 at 18, with capital from her father's trust fund, Betty opened her own studio in London where she taught ballet, tap, musical theatre and acrobatics. At this time a group of teachers were working together exchanging their expertise to attain ISTD qualifications in the different branches. Betty taught Stage, Marian Lombard taught Greek and Margaret Saul, Ballet. When the war broke out in 1939 they all went into the armed services or war work, with Betty driving an ambulance. She also ran the dance side of the Blue Pencils, a musical review that entertained the troops. She choreographed and danced in all the dance sequences for that show and taught the performers classes to keep them in shape.
In 1947 Betty moved to Canada as a war bride for the benefit of her two children, one of whom was suffering from tuberculosis of the spine. She settled in Toronto where she arranged dances for a production of Humperdinck's opera Hansel and Gretel.
In 1948 she opened her own school and taught ballet, tap, acrobatics, musical comedy and ballroom dancing. A few years later she bought a house and converted the ground floor into two studios. There she only taught ballet. Reaching out to improve the level of dancers and dance teachers, Betty founded the Canadian Branch of the Cecchetti Society under the ISTD London, England and became chairman in 1949. She established Canada's autonomy and set up summer courses, workshops and examinations in the Cecchetti method across Canada that continue to this day. The standards she set have led many dancers and teachers to strive for excellence reaching further than they would have believed possible. The same year, Betty and other Toronto dance teachers founded the Canadian Dance Teachers Association (Ontario Branch).
In 1951 she encountered Celia Franca who had been brought over from England to form the National Ballet Company of Canada, and Betty became their first ballet mistress later becoming Associate Artistic Director (1969-75). 1971 marked the Company's first performances in Europe. Betty and Celia soon realized that to produce a first class professional company with a consistent style they had to have a good school to feed it. In 1959 they co-founded the National Ballet School in Toronto. Betty was determined that this school would combine academic education and professional ballet training, a facility that had not been available to her. She wanted the education to be of such high quality that the students would not feel trapped into a career in ballet, or, if they chose, they would be equipped in retirement to follow a second career.
The school started out in a Quaker temple and later expanded to include a number of the surrounding buildings. In 1988 after years of work Betty celebrated the opening of the R.A. Laidlaw Centre consisting of teacher training facility, residences and the Betty Oliphant Theatre which provided the school with its own performance space. Artistic Director for 30 years, Betty retired in 1989 but continued to teach for several more years. Her teaching was based on the Cecchetti method because she admired his logical development of movements, and believed in exams. She considered the use of head, the port de bras and the 8 body positions were the greatest gift given to us by Enrico Cecchetti. "There never has been such a teacher," she said. Nevertheless, having studied in England, Russia, Denmark and France she was continually searching, analyzing and questioning how to give the ultimate to all who trained under her.
In 1967 her abilities as both a teacher and director inspired Erik Bruhn to invite her to reorganize the Ballet School of the Royal Swedish Opera and in 1978 Henning Kronstam invited her assistance for the Royal Danish Ballet School. She was a guest in Russia on four occasions and was invited to teach the graduating class at the Bolshoi Ballet School. She was Guest of Honour at the 1st International Ballet Competition, Moscow (1969), a member of the jury for the 3rd and 4th Competitions (1977 & 1981), and member of the jury for the Prix de Lausanne (1991). After a trip abroad there would be changes made, sometimes to stay, sometimes rejected. She had strong views on preventing over developed, gripped muscles from her own early training; a very distinctive use of the floor, body placement and jumping from the backs of the legs.
Intimidating to many, Betty was a brilliant and passionate teacher. Through her teaching and directional skills the National Ballet School of Canada's training has earned worldwide recognition and continues developing today from the base that she established. She created a generation of famous dancers, directors, brilliant choreographers and highly regarded teachers who are working all over the world. Clement Crisp, dance critic of London's Financial Times, put it so aptly when he wrote: "Betty Oliphant's idealism and her dedication to the training of serious, well-rounded dance artists have given Canada a grand academy for classical ballet, which must be the envy of many nations. The future of ballet in Canada, rests, in part, upon the splendid foundations of the National Ballet School as Betty Oliphant shaped and guided it."
She has won numerous awards, honorary doctorates, Officer of the Order of Canada (1973), Canada's highest honour, that of Companion of the Order of Canada (1985), and was one of the first female recipients, and only the third Canadian to be presented with the Order of Napoleon by the Maison Courvoisier, France (1990).
Recollections from students:
Shirley Tetreau – I started studying with Betty in 1949 at the age of 12. She always encouraged us and our parents to attend the symphony and opera, to visit art galleries and museums, to go to the Stratford Festival when it started, and to attend as many dance and musical theatre performances as were visiting Toronto in those years. Of course, we all went to see the National Ballet Company when it began. She also stressed the importance of playing an instrument or singing to become more musically knowledgeable. All of this, according to Betty, was most important as we were to become artists and not simply good technicians of dance. The other vivid memory I have is of Betty telling me that I had a gift for teaching. She would have some of us be her assistants and demonstrators in younger students' classes. I loved this as it meant that we received more personal coaching as we demonstrated for her. Then when I was 14 she had me share with her the teaching of a couple of younger students' classes and this was the greatest mentoring I could have received. Betty really developed our "eye" for line, for placement and alignment, for dynamics and style in movement. To develop our rhythmicality and musicality we studied tap with her. She was an amazing tap dancer herself and constantly challenged us to keep up with her accuracy and speed. We all took Flamenco with a teacher she hired to give us the experience of a different style of dance. We also all took our Cecchetti examinations. Betty would tell us that the strong, clean technique Cecchetti studies developed would also give us the ability to be molded by choreographers into dancers that could move in anyway their creativity demanded. She also reminded us over and over again that no dancer could cheat or fake their technique as Cecchetti studies put us under a microscope and we really had to work hard to understand our physiques, our capabilities and work with our limitations. She kept saying that we had to have a passion for hard work and that we should enjoy experiencing our development from year to year. However, she was not impressed only with our improving technical skills. She wanted us "to emote" to put our heart and soul and feelings into everything, starting at the barre. Often she would say "I'm getting bored watching you. Let your dance speak to me. Show me you love what you are doing".
Nadia Potts – I am one of the few students who had Betty Oliphant for my very first ballet class. I started studying at her Toronto studio at the age of 7. I immediately liked and responded to her teaching because I felt that I was learning the "real thing" right from the start and that I could, by working hard, achieve tangible results. I loved her dry English sense of humour, her logical approach as well as her demand for perfection. I continued to study with her from the time that the National Ballet School first opened in 1959 until I joined the National Ballet Company 6 years later at the age of 18. She gave me an extraordinary foundation on which to build both as a dancer and as a teacher. Betty's teaching style is difficult to describe. She was not loud or demonstrative but was, in many ways, soft and gentle in her manner but also very persistent and demanding. She had a terrific sense of humour and would often laugh in class. She always demonstrated with her arms floating in space as though suspended in the air. When someone didn't do what she wanted or forgot a correction she pulled herself up tall and, looking down her nose would say, "Didn't I just tell you not to do that" and the poor student she was after would rarely make that mistake again. Her approach to ballet technique was extremely logical. If something didn't make sense to her, she didn't teach it. She was a meticulous, patient teacher and spent a great deal of time instilling in her students the importance of working on line, placing, and technical detail.
Jane Wooding – Miss O's classes were brilliantly constructed. Carefully crafted and challenging both intellectually and physically, her exercises were memorable and are still a valuable resource for many dancers and teachers. The main focus of the work was to increase one's self-awareness and responsibility. The barre, usually quite long and complicated, was developed and repeated over a two-week period. Classes were stopped frequently as errors were not tolerated. Heaven forbid, someone might make an error near the end of an exercise and it would all start again! Centre work usually started with port de bras; adages were long with many promenades in attitudes and arabesques; pirouette exercises and tendus en tournant, both en dehors and en dedans were used to maintain correct alignment and sustain turnout. Much class time was spent jumping, and usually ended with traveling enchaînements or turns from the corner. It was often her difficult and sometimes deliberately awkward preparations that empowered the end result. Her combinations gave the dancer no place to hide – one simply could not cheat. The alignment was square, the turnout was absolutely equal and without torque, port de bras was unadorned – pure technique that could adapt to choreographers of every style.
Further reading: Miss O: My Life in Dance by Betty Oliphant ISBN 0-88801-210-1
Written in co-operation with Nadia Potts.