Audrey King (1915-2003)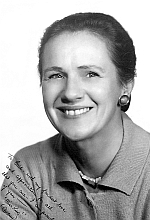 Audrey King, born in Manchester, England on 12th February 1915, commenced her dancing training at the age of five. Two years later, having watched Anna Pavlova perform in London, the young Audrey's soul was lit and she knew without doubt that she would pursue, at all costs, a career in Classical Ballet.
Audrey Kathleen King
She consequently enrolled at the Grace Cone School of Ballet, London, where she studied, and trained in both the Cecchetti and Royal Academy of Dance methods. It is believed that Audrey was the first student in England to take the R.A.D. Solo Seal examination.
In her mid teens, Audrey traveled to Shanghai where, together with her eldest sister Dulcie, she opened the Bateman-King School of Dance. It was here that she met and tutored 12-year-old Peggy Hookham, who became the legendary Dame Margot Fonteyn (Arias).
While living in China, Audrey joined the touring "Le Ballet Russe de Shanghai", performing Classical repertoire in major cities in the East. Thereafter, she formed her own Company in China and concentrated on developing her passion for choreography.
When interned during World War II, Audrey used her talent for choreography, creating her own ballets with which to entertain fellow internees. Subsequent to her marriage to Jay Grilk, Audrey settled in South Africa, where she became actively involved in the development of Classical Ballet.
Dedicated, focused and highly determined, Audrey gave much of herself! Fellow of the Imperial Society of Teachers of Dancing (Cecchetti Society Faculty), she examined, coached, taught juniors, trained aspiring dancers and teachers and choreographed extensively.
Audrey's motto was: "If something is worth doing, it is worth doing well!" She would not tolerate tardiness, laziness or lack of commitment in any form and she expected of others no less than she expected of herself.
"Miss King" as she was known to her students, was a driven and dedicated task master, yet her bubbly sense of humour often diffused many a tense moment!
She was head of, the then, Pact Ballet Students' Course for many years; a member of the Governing Council of the National Society of Dance Teachers and a member of the Royal Academy of Dance.
In 1977 Audrey founded the Johannesburg Youth Ballet Company (JYB), which was representative of all cultures in South Africa. Dame Margot Fonteyn became its President.
The Company performed at the International Festival of Youth Orchestras and Performing Arts, Aberdeen, Scotland and additionally at the Summer Festival in Tel Aviv, Israel. JYB thereafter successfully toured Taiwan, Italy, England and South Africa, also performing on South African television.
Some years following the death of her first husband, Audrey met her second husband and relocated to the United States of America, where she continued to propagate the Cecchetti method. She also examined in Vancouver, Canada, and taught and adjudicated at their 'Cecchetti Classical Ballet Awards.'
She retired as Professor of Classical Dance and Ballet at the University of Santa Clara, California in 2000, earlier having led a group of students to perform her Ballet "Laugh Clown" in Poland and Russia.
From her, I learnt about courage and perseverance. With her, I experienced the joy of performing and entered the world of teaching. Audrey Kathleen King enjoyed a full and inspired life.
Written by Gail Myburgh, chairperson, Cecchetti Society of Southern Africa